Carpet Burns
Before
After
Commercial Carpet Repairs
Before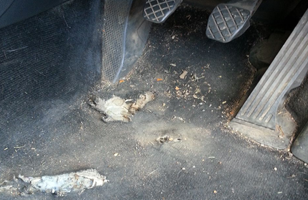 After
Pet Damage
Before
After
Commercial Carpet Repair for Professionals
Think your commercial carpet is ruined? Think again…
Are you looking for professional carpet repair for your business? You're in the right place!
We do indeed cater for all types of carpet repair for businesses. In fact we work on everything from Offices to Mosques, Restaurants to Hotels and have even repaired carpets for such prestigious businesses as:
Ramada Hotels
Harvey Nichols
Michelin starred London restaurant 'Marcus'
Multiplex Cinemas
When the carpet covers a large area you might think it'll cost hundreds or even thousands of pounds to replace, and you'd be right…
That's why calling us is your best option. We can fix the damaged area so there's no need to spend all that money on a whole new carpet.
If you scratched your antique dressing table, would you spend a fortune getting a new one, or would you get a French Polisher on the job?
As carpet repair experts, we have the skills to re-tuft and patch sections of carpet for a flawless finish.
Benefits to you and your company
You will save a lot of money
You will be left with a fully restored carpet and no one will know what happened
You will save yourself stress
Your business will look smart and professional once again
You and your customers won't be inconvenienced by having a whole new carpet fitted
You won't have to close whilst the repairs are being done
What to expect
Expect a can do attitude. There's not much beyond our specialist team!
We have over 30 years of experience in professional carpet repair so you can expect an exacting standard from our carpet surgeons.
There can be a lot of foot traffic when business is booming and that takes its toll on even the best carpets. Whether your carpet is threadbare, frayed, worn, burnt, torn or stained, we can fix it!
All you have to do is call us on 01827 261782 and we'll do the rest.
Here's what one satisfied customer had to say:
"I cannot speak highly enough of the quality of their work and professionalism"
Fiona Kinnaird, Harvey Nichols
To see what our other commercial business customers say, visit our testimonials section and case studies page or to request a quote and repair, simply get in touch.
Damaged walkway after replacement
Damaged walkway during replacement
Damaged walkway
Main prayer room After repair
Damage to prayer room
Birmingham Central Mosque Prayer hall
AMC Staff Canteen
AMC Staff Canteen
Staff Canteen
Staff Canteen

Main Foyer after repair
Main Foyer Before repair