Carpet Burns
Before
After
Commercial Carpet Repairs
Before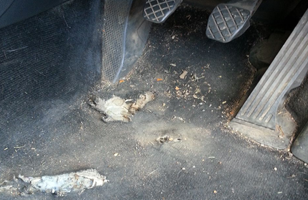 After
Pet Damage
Before
After
Professional carpet fitting at one of Tamworth's most famous buildings
We've fitted carpets in all sorts of commercial premises, and we treat each and every job with the same level of skill and professionalism, no matter the size.
But every so often you get a job that you just won't forget in a hurry and working in one of Tamworth's most historic and iconic buildings was one of those occasions.
The Grade II Listed Moat House is famous in Tamworth and beyond, whether for its Elizabethan origins when it played host to the future King Charles 1, as the headquarters of Tamworth's Civil War Parliamentarians, a private nursing home for the mentally ill, or as a 1970s steak house.
It's been through many changes over the years and people are always interested in its fortunes. Starting a new business is never easy, but with all that history, and being Grade II Listed, has made renovating the Moat House an even bigger challenge for its new owners. And Carpet Surgeon was delighted to be involved!
You can read all about it in the Tamworth Herald, which featured the two London businessman who have come to Tamworth with the aim of restoring the magnificent building to its full former glory. And with more than £1million invested already – the stakes are high.
Donald Blackford and John Oglesby have already carefully restored and renovated the ground floor and the function room on the first floor, and aim to eventually open the Elizabethan mansion as a 4 star hotel.
The importance of professional carpet fitting
So, when they were looking for professional commercial fitting of their bespoke new carpets, they contacted local carpet fitting specialists, Carpet Surgeon, and we were only too happy to be part of this amazing transformation of the stunning building.
When you've paid out for carpets that have been specially manufactured to your own design and quality, you want them to be fitted professionally and with care. Carpets that haven't been expertly fitted will soon suffer rippling and tearing; something the new Moat House owners just couldn't afford to happen.
As well as giving the bespoke carpet the treatment it deserved, professional carpet fitting in Tamworth by Carpet Surgeon also ensures the carpet will stand the test of time.
With such a high-level of investment and a building that people have high expectations of, the new owners also wanted to ensure that visitors get the wow factor when they are welcomed back into the venue to see the results of its new look so far.
We fitted the carpets to the recently refurbished bar and lounge areas, which formed the first part of a major renovation project set to take place over a number of years.
We supplied the felt underlay and all the accessories they requested for underneath the carpets. The brief also included supplying and fitting new safety vinyl for behind the bar and new barrier matting to the new entrance doors.
We really enjoyed working on this project and are so pleased with the end result. The building opened just a few weeks ago and is now open from Thursdays through to Sundays for drinks and functions.
Donald and John's long-term plans include creating an orchard, opening up the rear of the gardens to show the river views and holding a street food event in the grounds. They plan to offer food and hope to eventually open as a hotel.
They are now hoping people will support the new venture. We'd really encourage people to go and check it out. We know we'll certainly be doing our bit!
For professional carpet fitting in Tamworth, when only the best will do, contact Carpet Surgeon, your local carpet fitting experts.