Carpet Burns
Before
After
Commercial Carpet Repairs
Before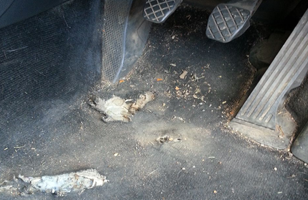 After
Pet Damage
Before
After
Carpet Surgeon Expert Repairs
Are you one of the majority working or sitting at home during lockdown thinking about the 101 things you can do to improve your home? Pause your Netflix box set and check out your carpet. Noticed any stains, snags, burns or damage from furniture that's been right under your nose all along? Then look no further Carpet Surgeon are here to help! In almost all cases an inexpensive, invisible repair will have it like looking new again.

Carpet burns
No not that kind!! Common burn damage come from cigarette burns, candles, and briefly fallen irons. These cause lifelong damage to our precious carpets. A lot of households look to claiming for new carpets on insurance, but at Carpet Surgeon, we will fix the damage without damaging your no claims bonus as well as your carpet!
Pet damage
With our best four-legged friends, who are constantly in and out of the house, you will certainly experience damage to your carpets throughout the house. This damage ranges from dirt, mud and grit trod in on a daily occurrence for years. As Frank Spencer hilariously said "Oooh Betty, the cat's done a whoopsie on the carpet." Pets will leave stains and smells. But, as we say, "Don't despair, we can repair." (We really should get some t-shirts with this on.)
Don't despair, we can repair
Just as a medical surgeon is highly trained and skilful, so are our surgeons, in carpets. Don't get the two confused. Both also need the right set of tools for a delicate job. In almost all cases an inexpensive, invisible repair will have it looking like new again. So, don't waste money replacing damaged carpets when they can be repaired simply and affordably by us truly.
Our seamless carpet repair magic
Using only the very best traditional methods of re-tufting integrated with the latest techniques of micro-shearing, we have a solution for your carpet repair ready and waiting.
From home domestic repairs, to commercial buildings and office blocks; we have a service to suit them all.
Expert carpet repair near Tamworth
Carpet Surgeon is based in Tamworth, Staffordshire. The areas we cover are, Atherstone, Burton-upon-Trent, Birmingham, and Lichfield. Located at the heart of England, we have easy access to travel nationwide, taking our excellent services to Manchester, London and further afield.
So put the phone down to your insurers and give us a call.
Contact us via our website or call us now on 01827 261782 and we'll solve your carpet woes.