Carpet Burns
Before
After
Commercial Carpet Repairs
Before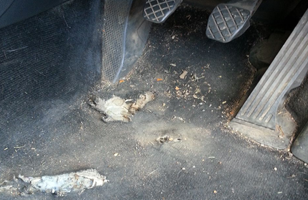 After
Pet Damage
Before
After
FAQ Questions for Repairing Carpets
Ever wondered how to fix your carpet. Over the years we have had many questions so we have complied some of the most common questions below:
Q/ How Do Repair Hair Straighteners Burns to a Carpet?
1/ Use sandpaper on the scorched area.
2/ Cut and take out the melted fibres and stick in other fibres with glue.
3/ Cut the burnt carpet out, and stick in a patch of new carpet.


Q/ How much does it cost to repair a carpet?
A/ That would depend upon the type and size of damage and distance involved , most repairs though cost a fraction of what a replacement carpet would, please contact us for a free no obligation quote .


Q/ How do I Repair Pet- Damage to my Carpet?
1/ Cut away any loose threads that may have been pulled leaving frayed and loose ends .
2/ Replace any missing fibers. by transplanting new from a donor piece or a closet and glue down
3/ Larger areas of damage may need a patch repair

Q/ How do you repair an iron burn on a carpet?
1/ Cut out the burned area with a sharp blade. cut in a square or rectangular shape that will be easy to replicate
2/ cut out a section of carpet from an inconspicuous area. Using the burnt section of carpet you just cut out as a template, cut out a piece of carpet from a less-noticeable area, like the back of your fitted wardrobe or storage cupboard. If your carpet has a pattern, make sure it exactly matches that of the burnt section.
3/ Spread glue on the new carpet piece. Allow the glue to settle in until it's slightly tacky and then gently press it into place.
4/ Use a small, sharp pair of scissors to trim any fibers on the ends that are long and gently brush the new fibers .
5/ Place a large heavy book on the new repair and allow it to dry for the 24hrs

Q/ How do I get bleach marks out of my carpet?
1/ Bleach works by stripping carpet of it's dyed colour, so accidental spills can result in annoying stains. By taking immediate action this can help you minimize the damage. Blot the area with cold water, then apply a solution of water and either washing up liquid or white vinegar. If the stain has set and the color has been taken, try disguising the stain using a crayon or paint. If all else fails, talk to us the professional's about retufting, cutting or patching the affected area.