Carpet Burns
Before
After
Commercial Carpet Repairs
Before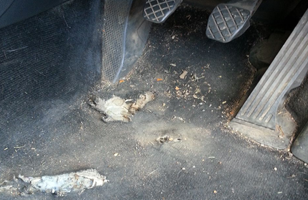 After
Pet Damage
Before
After
Expert commercial carpet fitting and repairs at serviced apartments in Birmingham
On their website, the No8 Waterloo Street Birmingham Serviced Apartments promise visitors 'the perfect accommodation for an amazing stay…offering elegance, comfort and a modern, spacious design'.
And when you're a top 30, 4-star rated business, every detail has to be perfect if the apartments are to live up to the high standards people will expect from this level of accommodation in Birmingham. And of course, the carpets are a key part of that. Worn, damaged, rippled or frayed carpets are not in keeping with a promise of opulence and luxury.
With that in mind, the building manager contacted Carpet Surgeon just six months after opening to quote for two areas of carpet repair. She had found us through a simple Google search of carpet repair experts in the Birmingham area.
We appreciate that time is of the essence when it comes to your commercial carpet repairs and attended quickly. While we were there, we were also asked to quote for the replacement of the carpet in the foyer.
This carpet had been especially designed by the architect/interior designers to fit in with the stylish, art deco feel of the building. Due to the high footfall in that area though, the light colours of the carpet had started to look a bit worn and shabby after six months of constant use.
We were happy to oblige, and we now change the carpet regularly, around every six months, as part of the routine maintenance of the building to ensure it stays looking in the tip top condition that the No8 Waterloo Street apartments are renowned for.
Specialist commercial carpet fitting
This is a job with a difference that requires a bit more specialist expertise than your standard professional carpet fitting job. The bespoke foyer carpet is very intricate, made up of individual pieces of carpet seamed together to make one piece. Although the area of carpet itself is rather small, the job takes around four to five hours to ensure it is fitted properly and with the time and care it deserves.
Maintenance and repairs of commercial carpets
When you're running any kind of customer facing business, and especially one in the hotel and hospitality industries, attention to detail is everything. To achieve and maintain the top ratings and award wins, quality has to be high.
That is why Carpet Surgeon is chosen time and again as a trusted commercial carpet fitting and commercial carpet repair expert - when you need someone professional you can trust.
As with the No8 Waterloo Street Apartments example, we were found through a quick Google search, but our testimonials, and then our workmanship, has since spoken for itself and we now regularly return to the building to carry out accommodation carpet repairs, as well as the foyer carpet replacement, to keep everything looking pristine.
The apartments are situated in a fully and tastefully refurbished Grade 2 listed building, offering 31 one and two-bedroom apartments, available to rent for business or pleasure.
Commercial carpet fitting for hotels and accommodation
Our expert advice, choice of carpets and carpet fitting service makes us the perfect one-stop shop for commercial carpet fitting. This enables us to offer a quick service with a quick turnaround where speed is of the essence.
Carpet Surgeon is a popular choice among local businesses and we will always try to get the job done as quickly as we can. We are committed to supporting our fellow local businesses and providing complete satisfaction, so we will go above and beyond to meet your urgent requests where possible.
For more information, contact your commercial carpet fitting specialists, Carpet Surgeon.