Carpet Burns
Before
After
Commercial Carpet Repairs
Before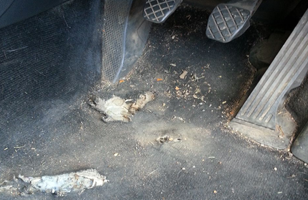 After
Pet Damage
Before
After
Expert repair for those carpet burn disasters
Aren't hair straighteners an amazing invention? They now form a common part of the hairstyling routine of women and men up and down the country. But as good as they are at taming those locks, it's amazing how many accidents they can cause.
We could almost be forgiven for thinking people are trying to straighten the fibres on their carpet for the amount of straightener burns on carpets we repair!
If you do drop your hair straighteners and your carpet gets burned, don't worry, we know that it's easily done - and we're here to help.
It's not just hair straighteners that cause carpet burns; other common offenders include curling tongs and hair dryers. On a serious note, if all you're left with is a scorch mark, count yourself lucky as there are many stories of these items causing full on fires, so please do be careful.
What to do if I burn my carpet?
If you have had an unfortunate mishap and are left with a hair dryer, curling tong or hair straighteners burn on your carpet, don't despair, we can repair!
You don't need to throw out the carpet, buy a new rug or start rearranging the furniture to cover that unsightly scorch mark, just contact your Carpet Surgeon expert.
Send us a photo of the damage – don't try and do anything to it yourself – and we will provide you with a quick and easy quote for the cost of repair.
Repairing carpet burn damage
We have more than 30 years of experience in repairing all sorts of damage to all sorts of carpets across Tamworth and Lichfield – and burn damage is right up there with the most common of accidents.
This means you can rely on us to get your carpet looking absolutely as good as new and in no time at all.
We'll assess the damage and then use one of our specialist repair techniques to magic it away for you so you won't even know it was there.
Depending on how deep the burn is, repair will likely involve either a patch, re-tufting or micro-shearing.
If we do have to patch, don't worry, even if you don't miraculously have a spare piece of your carpet lying around, we will get a piece to match and we guarantee that you won't be able to tell afterwards.
We can also repair carpet burn damage on various carpet types without the need for a patch, including cut-loop carpet, frieze carpets, random shear carpet and plush or velvet carpets.
Micro-shearing for hair straightener burns
We might be able to repair your hair straightener, curling tong or hairdryer carpet burns using a specialist technique called micro-shearing.
As carpet repair experts, we have all the best tools for whatever carpet disaster awaits and the micro-shearer is particularly clever.
This specially-designed machine trims the uppermost fibres of your carpet using sharp, precisely-angled blades and is great for those top layer carpet singes or melted fibres.
Whatever the repair required for your burnt carpet in Tamworth, Lichfield and surrounding areas, it'll be in good hands with us for a quick and affordable job well done.
Get in touch
Carpet Surgeon are experts in carpet burn repairs, so get in touch with us if you've had a hair straightener, curling tong, hairdryer – or any other type of burn damage – disaster.
We'll be straight to the rescue for a cost-effective, hassle-free repair.