Carpet Burns
Before
After
Commercial Carpet Repairs
Before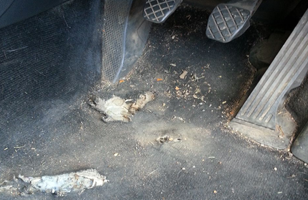 After
Pet Damage
Before
After
Carpet repair Atherstone
Have you considered carpet repair for your car?
We're experts at seamless carpet repair and we've yet to be beaten when it comes to making a damaged carpet look new again.
Our mission is to make sure people don't waste money replacing damaged carpets when they can most likely be repaired easily and affordably.
However, this is not limited to carpets in homes and businesses; did you know we can also repair the carpets in your car?
Vehicle carpets have to put up with a lot of wear and tear, especially around the footwells, and they do eventually become damaged or worn.
But before you consider full replacement, it might be worth finding out what we can do to repair the damage. A repaired and refreshed carpet for your car can work wonders for the overall appearance of the vehicle. This can be especially useful if you've just bought a new car, you're looking to sell, you're restoring a car, or you just want to sit inside a tidy, well-kept vehicle!
Whether it's wear and tear, or specific damage such as a cigarette burn, hole or rip, you can get our expert opinion for all car carpet repair in Atherstone, Tamworth and surrounding areas.
Sometimes it's just a case of simple aesthetics, but if you have commercial vehicles, such as taxis, private hire vehicles or company cars, then appearance is everything and repairing worn and tired-looking carpets is a must.
Do It Yourself vehicle carpet repairs
You may be able to carry out some minor vehicle carpet repairs yourself, if it's worth repairing at all. For example, damage around the pedals in the driver's footwell is probably not worth repairing because the chances are it will quickly become damaged again and so a larger scale repair or replacement is required here.
If it's in a passenger footwell, you may be able to fix it yourself if you want to.
Small rips or frays in uniformly coloured carpets can easily be repaired by gluing new fibres into the area with a glue gun, and takes just minutes.
For more severe damage, you could buy a replacement carpet matching the make and model of your car and this can be sewn over the top of the affected area.
Expert vehicle carpet repair from Carpet Surgeon
Sometimes it just makes sense to call in the experts. We've repaired hundreds of vehicle carpets in Atherstone and across the area and will be able to get the job done quickly and professionally. We'll also know the best places to get replacement fibres and carpets matching those in your car.
On occasion, the only option is to completely remove the carpeting and have a fresh fitted layer applied, and this has to be done by the experts. You'll be paying for the carpet anyway, so why not pay to get it properly fitted to last?
Once you've gone to the trouble of paying for a new carpet for your car, it's also worth thinking about protecting the most vulnerable areas with a mat.
Read more about our expert car carpet repair Atherstone, check out our amazing before and after pictures, or contact us for further information about our carpet repair services and our friendly advisors will be happy to help.