Carpet Burns
Before
After
Commercial Carpet Repairs
Before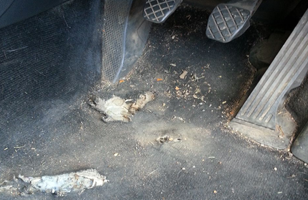 After
Pet Damage
Before
After
Puppy or kitten damaged your carpet?
According to latest figures, half of UK adults now own a pet, with dogs and cats as the main animals of choice.
This amounts to an estimated 11 million pet cats and 10 million pet dogs, and while many people might think of all those cute little puppy and kitten faces – we can't help but think of all the damaged carpets!
Of course, there's no denying how lovely your new cats and dogs are, but while they might be man's best friend, they're definitely not carpet's best friend!
Kittens and puppies love to chew, claw, scratch – and even 'do their business' – on your carpet. Carpeted stairs make excellent scratching posts for your cats, and any loose threads double up as wonderful toys for a bored dog. That's not to mention those toileting accidents and the coughed-up hairballs!
We know you love your pets as much as any other member of the family, but that doesn't mean you have to live with the result until it's time to replace your carpet.
Don't despair, we repair!
Luckily, we are experts when it comes to repairing pet damaged carpets in Tamworth, Lichfield and the surrounding areas. We can easily repair pet damage to carpets and get them looking good as new again. Whether your puppy or kitten has come through their 'destroy everything in sight' phase and you now want to get things looking smart again, or you need to carry out an urgent air to stop an area of damage from getting worse, we can help.
You don't need to fork out for a new carpet – and it might not even be worth the investment if future pet damage is possible. Carpet repair for pet damage is easy and hassle free.
Just take a photo of the damage and send it to us and we'll respond with an estimate for the cost of repair. Please feel free to send us a photo of the culprit too as we love a cute cat or dog photo - nine times out of 10 they look like butter wouldn't melt!
How to repair pet damage to carpets
We have over 30 years of experience in repairing all manner of damage to carpets – you name it, we've repaired it. And pet damage from claws, nippy little teeth, sick or code brown situations, is one of our most common call outs.
Often insurance policies don't cover pet damage, and even if they do, you might not want to risk raising the premiums for something that can be repaired quickly and cheaply in comparison.
We use a variety of techniques to repair pet damage to carpets in Tamworth and Lichfield, depending on the carpet and the extent of the problem. We can skilfully match, re-tuft or patch sections of your carpet as required to leave it as good as new so the only remaining evidence will be that sheepish look on Fido's face.
For help with pet damaged carpets in Tamworth, Lichfield and surrounding areas, get in touch with your Carpet Surgeon experts.