Carpet Burns
Before
After
Commercial Carpet Repairs
Before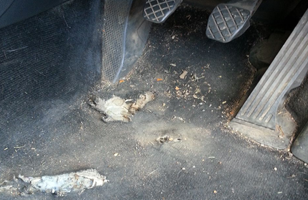 After
Pet Damage
Before
After
Repairing a burn in a carpet: The great carpet burn mystery
With over 30 years of experience in the soft flooring trade, there's not much we haven't seen when it comes to carpet repairs. Although the wide variety of carpets and floorings now available means every job is different, it's usually clear how the damage was caused.
However, that was not the case with a recent customer who contacted us to repair a mystery carpet burn.
The customer had a burn in their dining room carpet the size of a golf ball, but couldn't explain what had caused it or how it got there.
Despite repeated denials from the children – and even the cleaner! – the customer assumed someone must have caused it, perhaps without even realising it at the time.
We made an appointment to repair the carpet burn and when we arrived on site we were amazed to discover not one, but now three separate burn marks on different areas of the carpet!
This time though, the mystery had been solved. The family had recently bought new dining furniture with glass and mirrored legs, but it wasn't until they repositioned it in the room for a dinner party that they realised it was actually their new table that was responsible for the burn.
Depending on where the dining suite was positioned in the room, it would reflect sunlight off the legs onto the carpet, causing it to burn. Because the set had been moved around the room repeatedly, different areas of the carpet had been scorched.
Maintaining carpets
Our experts repaired the carpet and made it look as good as new, but the customer was left with the dilemma as to how to stop it from happening again. They'll either have to keep the blinds or curtains closed when the sun's out, reposition the table permanently away from the sun's rays, or consider getting new furniture. Otherwise we may end up back there carrying out more repairs.
This case study highlights the many factors you have to be aware of when it comes to maintaining carpets. We're all super careful with things like red wine and irons etc, but who'd have thought your dining room furniture would cause carpet burns?!
Fixing a carpet burn
The customer did the right thing by calling us though. Burns are often exempt from insurance policies and replacing a whole carpet for the sake of one (or three!) scorch marks is an expensive business.
Repairing a burn in a carpet will usually require a patch, but don't worry, you won't be left with a patchwork effect and your carpet will look good as new afterwards.
The process is quick, easy and low cost.
We are experts in carpet burn repairs and will get your carpet repaired in a cost-effective manner, at a time convenient to you. Contact our expert team to find out more about carpet burn repair.