Carpet Burns
Before
After
Commercial Carpet Repairs
Before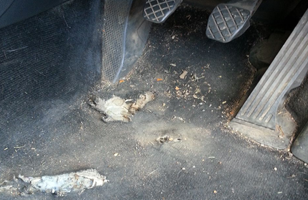 After
Pet Damage
Before
After
Your effortless perfect lawn
Everyone wants a beautiful, well-kept lawn all year round. Sounds ideal doesn't it? An evergreen, lush looking lawn. Wishful thinking without the fuss and effort of tending, treating and mowing every week.

Here at Carpet Surgeon, we can make your dreams into reality with our expert artificial grass laying services in Tamworth.
Benefits of an artificial lawn
Easy on the environment
With no more watering, no more worry of hosepipe bans.
Watch your water bills reduce as no more constant irrigation for feeding your lawns. Saving you money. Also, forget about buying harmful pesticides and herbicides which also have an impact on the environment. Other pollutants such as petrol lawn mowers will be eliminated.
Childhood fun
Children of all ages loving spending hours in the garden, all year round. Whether it be sports, running around chasing bubbles or playground equipment. But overtime all of these have an impact on your lawn. But, with artificial grass, you need not care about wear from swings and goal posts. The durability of our lawns can take years and years of childhood fun.
No more muddy paws and kitchen floors
As our canine best friends always need their mark their own patch of grass in your garden, this can lead to unsightly brown and yellow stains which would usually need treating. You may be led to believe that artificial grass is unsuitable for pets, but once your dog has answered their call of nature, clean as you would normally, and notice the absence of muddy paw trails in your kitchen and home.
Expert artificial grass fitters in Tamworth
We proudly provide expert carpet and artificial grass fitting and supply service. Our team can fit lawns to any home or business within the Tamworth area.
Carpet Surgeon is based in Tamworth, Staffordshire. The areas we cover are, Atherstone, Burton-upon-Trent, Birmingham, and Lichfield. Located at the heart of England, we have easy access to travel nationwide, taking our excellent services to Manchester, London and further afield.
We are based in Tamworth means we're perfectly located to offer our services locally keeping the cost to fit the artificial grass low. As we're a small supply and fitting team we don't have large overheads and provide a fast-reliable service.
Be the envy of the street with our outstanding artificial lawns.
Give us a call.