Carpet Burns
Before
After
Commercial Carpet Repairs
Before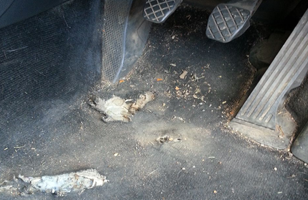 After
Pet Damage
Before
After
Giving commercial carpets a new lease of life with carpet stretching
As carpet and soft flooring experts with more than 30 years of experience, we specialise in all forms of commercial carpet repair.
If your commercial carpet is damaged, worn or wrinkled, that doesn't necessarily mean it needs to be replaced. At Carpet Surgeon, we are experts when it comes to making carpets look as good as new, for a fraction of the overall cost of replacing your carpets.
No job is too big and we have a long list of customers who come to us for their commercial carpet repair or professional carpet fitting in Birmingham and surrounding areas.
This includes Anchor Computer Systems Ltd in Barnt Green, Birmingham, who recently contacted Carpet Surgeon because their office carpets needed some serious attention.
Smooth wrinkles and bumps with carpet stretching
When we visited Anchor Computer Systems Ltd to assess the situation, we found that the existing carpets fitted five years ago had rucked and bubbled badly, to the extent that it had become a health and safety risk in some areas.
Upon closer inspection, our expert technicians found that the carpets had been loose laid on to acoustic sound-reducing tiles. Over time and due to the moving of office furniture etc, this had led to the carpets significantly lifting and wrinkling.
The only option was to take the carpets up, re-stretch them and professionally refit for a lasting, smooth and wrinkle-free finish with no trip hazards.
Carpet stretching is a delicate process as the existing carpets have to be lifted without causing damage, stretched using the appropriate tools and expertise and then professionally re-laid to avoid further movement and bagging.
We made sure the carpets were fully-adhered to the acoustic sound-reducing tiles so that the offices could take full advantage of the benefits of acoustic carpets.
Professional carpet fitting Birmingham
Professional carpet fitting is key to maximising the lifetime of your carpets. If carpets are not fit professionally, they will be liable to lift, fray and ripple.
Professional fitting starts from the ground up. Having a smooth, level floor and appropriate underlay is vital to the longevity of the carpet – and this includes being mindful of any acoustic carpets or tiles.
Our experienced carpet technicians are experts in all areas of sub-floor, underlay, acoustic carpets, carpets and soft flooring and will ensure that your carpet is fit to last, first time.
Commercial carpet fitting Birmingham with minimum disruption
When it comes to the carpets in your business, whether that's an office, hotel, restaurant, retail outlet, cinema or other, it pays to get the job done right from the outset. You'll want your carpet to look great and stand the test of time to ensure you get value for money.
With Carpet Surgeon you get that high level of skill and professional workmanship. You will also benefit from our excellent customer service.
We know that time is money in business and having carpets repaired or a new carpet fitted can be inconvenient to the day to day running of things. That's why we will go the extra mile to ensure the work is carried out with minimum disruption.
At Anchor Systems Ltd, for example, the offices are extremely busy during the normal working week and the repair work would have been too disruptive to the business at that time. For that reason, we undertook the work over the weekend, ready for business to continue as usual on Monday.
Whether it's routine or urgent commercial carpet repair in Birmingham or surrounding areas, Carpet Surgeon can help.
If your commercial carpet is damaged or needs a new lease of life, contact Carpet Surgeon experts for more information.