Carpet Burns
Before
After
Commercial Carpet Repairs
Before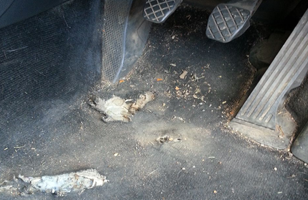 After
Pet Damage
Before
After
Carpet Surgeon Micro shears for the BBC
Carpet Surgeon micro shears to save carpet after a protective covering destroys the soft furnishing
Here at Carpet Surgeon we are used to dealing to problems with soft floorings all the time. Instead of having to pay an extremely large fee replacing a carpet, we help you install some love back into an old furnishing and reliving the moment you first bought it, helping you save money and be environmentally friendly!
This month we were contacted by the BBC after they'd been filming at a beautiful house in Manchester, however got into a spot of bother once the filming was over.
When the BBC goes into a location, such as somebody's house to film they always cover up the carpets with a low tack polythene protector, which they use on most shoots without a problem. This protector means that the carpets don't get damaged on shoot and that the filming crew coming in and out don't have to waste time constantly removing and putting on footwear.
However, this time the protector did exactly the opposite. When the polythene was lifted for some reason it also started to lift the carpet pile leaving behind it on appearance an uneven finish with different pile heights and sprouting threads from the carpet.
The BBC then found us online and gave us a call to see if there was any way we could fix the problem and not cause any grief to the home owners and the BBC who would have to shell out a small fortune for a new carpet.
We made our way to Manchester to visit the site having already suggested the idea of micro shearing the carpet, which includes trimming down the tufts of carpet and threads so that they are all the same length and didn't make the carpet look messy and uneven- the way the protector had left it when it was removed from the flooring.
The BBC made sure that this was ok with the homeowners and we made an appointment to go out and fix the carpet!
Never fear the carpet surgeon is here!
On attending at the property it was assessed that micro shearing was the best solution and after around three hours of painstakingly going over the areas we were able to bring back the carpet to it's full glory much to the happiness of the homeowner and saving the TV license payer a considerable amount of money.
If you need a carpet fixing due to a bad experience with a home protector or for any of your commercial or domestic soft flooring needs get in touch today, and The Carpet Surgeon can come to your rescue. If you intend to keep your carpets full size this year, contact Paul at Carpet Surgeon on: 01827 261782 or tel:07899992424
Alternatively email paul@carpetsurgeon.co.uk. Carpet Surgeon doesn't clean the carpets, but we can always recommend an established local carpet cleaner, Cathedral ChemDry.