Carpet Burns
Before
After
Commercial Carpet Repairs
Before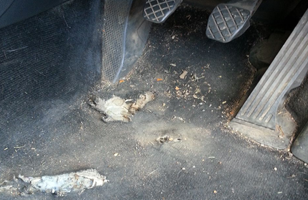 After
Pet Damage
Before
After
Ways to Keep Your Carpets Looking and Smelling Fresh for Longer
Carpets are not a cheap investment; there's no doubt about that. You don't want to spend all that money, time, and effort on fitting new carpets just for them to look weathered and smell like mildew after just a few months. You want the floors in your home to retain their freshness for years and years to come. For this to be the case, you're going to have to make a conscious effort to care for your carpets.

If you want your carpets to continue to look and smell as fresh as they did on the day they were laid, it's essential that you put the following four tips into practice right away.

Ban shoes

Banning shoes in your home is one of the best things that you can do to care for your carpets. Make it a family habit to take shoes off at the door and kindly ask visitors to do the same. Not only will this stop people carrying outside dirt and mess into your home, but it'll also protect your carpets from suffering with wear and tear issues. Shoes have a harder tread than slippers, socks, and bare feet, which means they are capable of wearing carpets down much faster.


Use baking soda

Here's a handy, simple, and cost-effective trick for you: sprinkle your carpet with a light dusting of baking soda before vacuuming it. This will leave your carpets smelling fresher than they've ever smelt before.


Vacuum regularly

If you want to keep your carpets looking clean at all times, it's essential that you vacuum them regularly. Performing this all-important household chore at least three times a week will not only pick up dirt, but it will ensure that dirt isn't trodden deep into your carpets. This will be sure to leave them looking noticeably different.

To ensure that your vacuum remains up to the task of cleaning your carpets, it's essential that you replace its filters and bags on a regular basis. This will make sure that your vacuuming device doesn't lose suction and subsequently becomes ineffective at picking up dirt.


Deal with burns quickly

It is easy to burn your carpets. All manner of everyday household items can cause this all-too-common problem. Should you ever experience an unfortunate mishap and be left with a hairdryer or iron burns on your carpets, it's essential that you act fast to treat the situation.

To remove burns from your carpet quickly, you should:

• Cut out the burned area of your carpet using a pair of small scissors
• Clean the affected area with a mild detergent
• Cover the burn spot with a new piece of carpet that matches the size and colour of the area

Have a serious burn that just won't budge? Fear not, as we have over 30 years of experience in the field of repairing burned carpets. We use a specialist technique known as micro-shearing to remove stubborn hair straightener and curling tong burns.


Put the above advice into practice, and your carpets will continue to look and smell fresh for years to come.