Carpet Burns
Before
After
Commercial Carpet Repairs
Before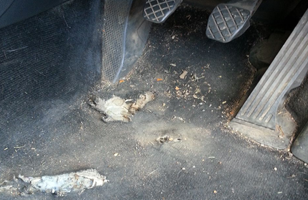 After
Pet Damage
Before
After
The Red Carpet Standard in Carpet Repair
Hollywood stars are used to having the red carpet rolled out for them but these days we all want a little bit of that Hollywood glamour. So going to see a movie is no longer just about watching on a big screen but the whole cinematic experience.
AMC Cinemas know this and continuously strive to improve what they offer to their customers to ensure that their huge sixteen-screen multiplex is the finest cinema experience available.
Their passion for film and being the best means that no detail is overlooked, so when AMC Cinemas Manchester noticed that the carpets in their screen rooms were coming loose they knew that they needed urgent repair. But who should they call upon to do the work?
A Trusted Recommendation
When choosing a professional to do a job for you the very best that you can hope for is a recommendation from someone that you trust.
The facilities manager at AMC Cinemas Birmingham* previously had similar repair work done by Carpet Surgeon and without hesitation was able to make a recommendation knowing what an excellent job they would perform.
Red Carpet Results
Carpet Surgeon assessed the carpets and then made good the carpet seams in the screen rooms restoring its previous smart appearance and avoiding any potential trip hazards. Carpet Surgeon also worked their magic on other areas of wear and tear in the public foyer area of the cinema.
The superb workmanship was obvious and AMC Cinema knew that they could trust the opinion of the Carpet Surgeon so a lasting relationship has formed between AMC Cinema and Carpet Surgeon over the years.
On occasion the carpets were beyond repair so Carpet Surgeon were asked to recommend a suitable replacement floor covering which they then supplied and fitted to an exceptional standard in line with the high expectations of AMC Cinema.
In order to keep uniformity throughout the cinema the carpets of the long corridors to the ladies and gents washrooms were replaced along with the entrances to some of the screens. Since then some of the offices and the main foyer have undergone the same makeover to keep them looking 'Hollywood Glam'.
5***** Customer Confidence
Any owner of a busy public space will know that repair and replacement is not a one-off thing but an ongoing concern. Carpet Surgeon are proud to have built the trusted reputation and business relationship with AMC Cinemas to enable them to always deliver the glitz their movie fans have come to expect.
If you have carpets that are letting you down and no longer looking their best give Carpet Surgeon a call on 01827 261782.
Every carpet situation is different but you can count on the expertise of Carpet Surgeon to give you a free assessment and then roll out their red carpet service for you too.
*AMC Cinema Birmingham has since been taken over by Odeon.