Carpet Burns
Before
After
Commercial Carpet Repairs
Before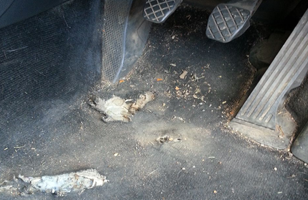 After
Pet Damage
Before
After
Flexible Repair Options for Charity Needs
Charities have plenty of considerations when it comes to spending their limited budgets on services;
Will they get good value for money?
Is it the most cost effective option?
Is the purchase an appropriate use of charity money?
Will the service providers be reliable and supportive of charity needs?
That's why whenever Carpet Surgeon receive a request for carpet repair services from a charity, it's clear they are in need of a reliable service that offers only the very best value for money.
This was the case for Heart Care (Walsall Cardiac Rehabilitation Trust), a Midlands charity that works to help people prevent and recover from heart and lung disease.
Their specialist rehabilitation centre had been fitted with new carpets around 12-18 months prior to contacting Carpet Surgeon, but the carpets were already showing signs of badly rucked areas that required a cost effective solution.
Risking Clients and Reputations
Carpet Surgeon's site visit to Heart Care's rehabilitation centre immediately identified that the carpets were loose and protruding excessively in several areas.
Further examination revealed that the original adhesive had broken down and had failed to hold the carpets in place, resulting in excessive movement that would rapidly see the quality of the carpet diminish. Any subsequent cleaning, or general wear and tear would then only work to exasperate the issue further.
It was obvious to all that not only did the appearance undermine the professional care service of the charity but it also caused a significant trip hazard and risky environment for the already vulnerable patients attending the centre for heart and lung rehabilitation.
Offering Flexible Costs and Solutions
Understanding the restrictive nature of the charity budget, but knowing the importance the charity would place on providing a safe and comfortable care environment, Carpet Surgeon offered the Heart Care charity 2 options to support their needs.
The first option: A highly affordable, cost effective fix that could be implemented to deal with the current carpet bumps and separations. This would ensure that each carpet ruck would be smoothed out by injecting adhesives directly into the problem area; offering a quick but short term solution.
The second option: A more permanent fix that would require an uplift of the entire carpet area, involving a re-stretch and then to fully adhere all sections back with correct adhesives, offering a safer, long-term solution but for a higher cost.
Preventing Disruptions to Charity Services
With a preference on a safer, more durable long-term solution, Heart Care requested Carpet Surgeon carry out the work required for the second option.
This would involve increased work for Carpet Surgeon to clear all furniture from the necessary rooms before the carpets could be uplifted, realigned and fitted back down correctly.
Knowing how disruptive this process would be to the beneficiaries using the centre, Carpet Surgeon's helpful team agreed to carry out all work during the weekend when the centre was not in operation.
Going to Great Lengths For Complete Satisfaction
To minimise cost and disruption, Carpet Surgeon's expert team worked quickly to carefully enable a seamless uplift and reposition of the Heart Care centre carpet within 2 days, allowing the centre to be fully operational again on Monday to avoid any service cancellations.
The new relayed carpet and adhesive application worked to transform the previously hazardous floor to a safe, durable carpet that reflected the professional care provided by the charity.
Needless to say, Heart Care were delighted with the service and lengths that Carpet Surgeon were willing to go to provide an ideal service for their charity requirements; and Carpet Surgeon were more than happy to be provide expert carpet services for the worthwhile purpose of the heart rehabilitation centre.
If your charity can benefit from the extra efforts and services1 provided by Carpet Surgeon including their expert carpet repairs2 for wear and tear, then why not obtain your most cost effective options by contacting3 Carpet Surgeon today on 01827 261 782.