Carpet Burns
Before
After
Commercial Carpet Repairs
Before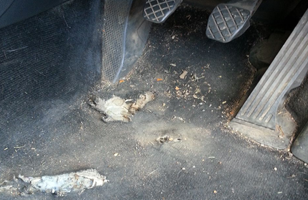 After
Pet Damage
Before
After
Case Study: Carpet Surgery for a Top Solihull Hotel
Solihull: deemed the best place to live1 in England, 2nd in the UK in 2015 and boasting some of the finest award-winning hotels in the country.
One of those hotels is St. John's, a luxury hotel at the centre of the town and part of the PH Hotels inspirational hotel collection. Understandably then, with such high expectations the hotel has a reputation to uphold.
St. John's Hotel is a leading conference venue and popular luxury place to stay so when the dining room carpet started to show signs of lumps and bumps it was a matter to be dealt with urgently.
Carpet Surgeon is experienced in repairing carpets for other prestigious clients and was approached for advice by St. John's Hotel.
Assessing the Problem
A dining room carpet in a busy hotel has to withstand a lot. Frequent food and drink spills require regular cleaning.
Carpet Surgeon determined that over time the steam cleaning that the carpet inevitably required had caused the water-based carpet adhesives to break down.
The heavy foot traffic over these loosened areas then caused bubbling and rucking in the carpet that not only undermined the appearance of the hotel, but could cause potential health and safety problems.
Finding an Effective Repair Solution
When small sections of carpet become loose it is possible to inject the bubbled areas with adhesive and re-stick them. However Carpet Surgeon advised that due to the large area involved and the likely result of future steam cleaning the best option would be to lift the entire carpet.
Did that mean that an expensive new carpet had to be laid? No. Carpet Surgeon was able to take up the carpet and separate it from the underlay eliminating any bubbles between the two layers.
The underlay and carpet were then separately re-adhered to the floor, just as a new carpet would be laid, producing a smooth and flat surface once again.
Keeping up Appearances with Great Results
The experience Carpet Surgeon has in dealing with an array of carpet issues resulted in an excellent outcome for St. John's Hotel.
They know that for a luxury hotel in a prime location they cannot let their standards drop. The speedy and cost effective service from Carpet Surgeon meant that the hotel was able to avoid a potential health and safety issue and maintain the luxury feel of their hotel brand without incurring unnecessary expense.
If you have problems with your carpets contact Carpet Surgeon2 for a consultation.
Take a look at the gallery3 and other case studies4 showing how Carpet Surgeon delivered excellent service with minimal disruption at a reasonable cost in many varied situations.
Links
1: http://www.uswitch.com/place-to-live/
2: https://www.carpetsurgeon.co.uk/contact-us
3: https://www.carpetsurgeon.co.uk/testimonials/case-studies