Carpet Burns
Before
After
Commercial Carpet Repairs
Before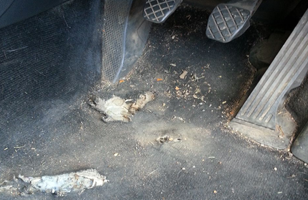 After
Pet Damage
Before
After
Case Study: Urgent Home Carpet Fitting In Time for a Big Event
You've spent months planning and arranging that classy dinner party celebration at your home and now the date is almost here. Soon you'll be enjoying a glass of prosecco with close friends as all the arrangements start to come together nicely.
That was until you looked down… and realised that your previously beautiful and welcoming carpet has over the years, completely changed colour to a depressing greyish brown. It's tatty and overly worn sections now make it a better fit for the neighbours skip down the road.
Little did you realise how much your aging carpet could undermine all your hard work. Is it possible for have new carpets fitted urgently in time for your big event
Urgent Carpet Fitting In Time for Christmas Day
That was the experience of one of Carpet Surgeon's clients who had planned a cosy festive Christmas dinner party, only to be faced with a number of dingy carpets in the lounge and guest bedroom that depicted a completely different atmosphere.
Aware that larger carpet fitting corporations would no doubt charge extra for new carpet and fittings in the holiday season and so close to Christmas day, the client decided to take their search to the internet to find a local carpet fitter with a reputation that could be relied upon.
That searched turned up Tamworth's most respected Carpet Fit and Repair service – Carpet Surgeon.
Surprising New Carpet Savings and Solutions
Knowing the tight deadline and importance of the request, Carpet Surgeon agreed to visit the clients home as soon as possible and brought along a range of great carpet samples for the client to view and match to their current décor.
Explaining the differences between each carpet style, material, durability and comfort, Carpet Surgeon was able to help the client decide on the most appropriate carpet to suit their needs.
Following an assessment of the guest bedroom, Carpet Surgeon found that the carpet could be transformed with just a few repairs – saving the client costs on a whole carpet replacement that wasn't yet required and providing the best value solution to the clients needs.
But this solution wasn't the only surprise that please the client; Carpet Surgeon then scheduled a complete refit with the new ordered carpet, underlay, accessories AND carpet repairs to be carried out just before Christmas day using their own expert carpet repair and fit specialists.
Amazed at the rapid response and extremely professional and friendly service of Carpet Surgeon during such a busy time impressed the client who felt that Carpet Surgeons urgent carpet fitting service deserved a 5 star recommendation on Facebook for making sure that their home celebration not only happened on time, but looked amazing too.
So if you're in need of a fantastic new carpet and with an urgent but professional fitting in time for you next home event – then look no further than your friendly carpet fitting specialists, Carpet Surgeon.