Carpet Burns
Before
After
Commercial Carpet Repairs
Before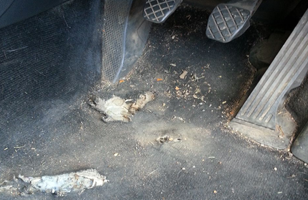 After
Pet Damage
Before
After
Carpet Perfect for Surprise Hotel Inspection
Sunday evening.
At a time when most people are finishing their dinner or finding a nice cosy spot on the sofa to watch TV, we were busy making the final finishing touches to carpet repairs and carefully packing away our tools.
It had been a hectic day, but this Sunday evening we'd achieved something we could be proud of. Something our customer would later describe as 'incredibly impressive.'
Reputations and Inspections
It began just 2 days ago when The Stuart, Best Western Hotel in Derby contacted us with an urgent request.
The city centre 4 star rated hotel with a reputation for modern décor and contemporary appeal was a popular choice for visitors to the city and as a result of heavy foot traffic in public areas, had sustained premature wear and tear to the carpet.
Management staff at the hotel always hold a strong desire to keep the hotel's appearance welcoming for customers and to maintain its standing as a popular accommodation for visitors to the city, so they decided that carpet repairs would need to be arranged promptly.
However, it wasn't until a surprise communication on a busy Friday afternoon that the hotel knew that 'prompt' wasn't soon enough; a more urgent solution to this issue was now required.
A hotel inspection had been scheduled to take place… that Tuesday.
With a busy weekend looming and a whole hotel to attentively prepare for scrutiny, it seemed like any hope of restoring the worn sections of carpet in time would be an impossibility.
Until a Google search provided a potential solution.
An Urgent Request
We received the request for carpet repairs from The Stuart Hotel soon after they had been notified of the inspection.
With only 3 days available before the inspection, we made arrangements to visit the hotel on the Saturday to inspect the damaged carpet and provide a quotation for repairs.
Although the overall carpet was in a generally good condition, sections of damage in public areas were noticeable with seams coming apart in the bar, restaurant and corridor areas.
Frayed sections of carpet near doorways presented a future health and safety hazard if not rectified, as did carpet that had started to separate from the stairs.
It was becoming apparent that if this Hotel was to receive an impeccable inspection report, these carpet repairs would need the expertise of Carpet Surgeon.
There was a problem however.
It was Saturday, and we had a full schedule of work commitments on Monday.
This left one free day to carry out all necessary repairs… Sunday.
Inspection Ready in Record Time
Determined Carpet Surgeon would provide a professional and exceptional service to support the staff at The Stuart, we rallied all the help we could with our expert team of carpet repair specialists and scheduled in a busy day of activity for Sunday; ready for inspection on the Tuesday.
With a bright and early start that Sunday morning, the Carpet Surgeon workforce diligently set to work re-patching, re-tufting and rejuvenating the hotel's carpet until it was returned it is former glory; transforming the public areas once again into a pristine contemporary space.
Working quickly and quietly to avoid disrupting hotel guests and employees, the long list of repairs were finally completed in the early evening.
Hotel management were thrilled to see the transformation which not only saved them extra costs from replacing whole sections of carpet, but also prepared them to receive the scheduled inspection in a short time frame.
With just 2 days notice, a busy day of work on a Sunday and a commitment to professionalism, Carpet Surgeon were able to provide complete customer satisfaction and were satisfied that whatever happens, at least the carpets would pass the inspection.
For more examples of how Carpet Surgeon have gone above and beyond and provided excellent value for money with flooring solutions you can read more case studies here1.
If your business can benefit from Carpet Surgeon's dedication to customer satisfaction then simply call us on 01827 261782 or email us2 and we'll be happy to arrange for a quotation.
Links;
1: https://www.carpetsurgeon.co.uk/testimonials/case-studies
2: https://www.carpetsurgeon.co.uk/