Carpet Burns
Before
After
Commercial Carpet Repairs
Before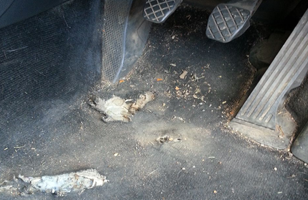 After
Pet Damage
Before
After
Barnado's Case Study – Carpet Repair
Barnado's was founded in 1866 by Thomas John Barnado and has been helping to care for vulnerable children and young people ever since. The work they do is extremely important and so we were delighted to be asked to put our carpet repair expertise into practice. No job is too big or small for our professional and dedicated team but it was particularly pleasing to be able to offer our assistance to the UK's largest children's charity.
Our family-run business has been operating as a friendly carpet repair organisation from Tamworth, Birmingham for over 30 years and, along with many other services we offer, we are able to perform effective and affordable commercial supply and fit tasks up and down the country. This particular job was focussed around remedying the joints in some of Barnado's carpets which were worn and fraying.
When we arrived at our destination we investigated the carpet and saw that we would be able to repair it without too much trouble. The main problem as far as we could tell was that there was no spare carpet to perform the repairs and mismatching carpets are an eyesore that prevent us from doing our absolute best commercial supply and fit repairs. We discovered that the staff kitchen had the same carpet as the one we'd been asked to repair and so we set about using that; it's part of our remit to make repaired carpets look as good as new and by supplanting the damaged area with some of the same material with the same pattern we were confident we could do just that.
We set about repairing the joints to the carpet in the main room, ensuring that the parts that were worn and fraying were removed and then seamlessly replaced. Commercial supply and fit jobs are an important part of our business and so going over and above what might ordinarily be expected of a carpet repair organisation is something we do as standard: we don't just want to be amongst the best in Tamworth, Birmingham; we want to be amongst the best in the whole UK. With that in mind we decided to supply and fit a new carpet in the staff kitchen.
That's the beauty of commercial supply and fit jobs: every single one is different and you can never predict exactly what particular skills will be required to perform the task effectively. Solving problems is something we've become accustomed to over the years and the team at Barnado's were extremely satisfied with the initial repair we performed. That we then supplied and fitted a new carpet their staff kitchen area only satisfied them further.
So if you're a company in Tamworth, Birmingham or even further afield (our centralised location means that we're able to travel across the UK quickly and conveniently) then get in touch with us today. Replacing carpets can be extremely costly and are often an unnecessary financial burden; repairing worn, fraying or damaged carpets so that they look as good as new is what we do best.
After performing the repairs and chatting with the staff we returned home leaving yet another satisfied customer with one carpet which looked as good as new and another which was new. Remember: "Don't Despair, We Can Repair."
Mission accomplished!