Carpet Burns
Before
After
Commercial Carpet Repairs
Before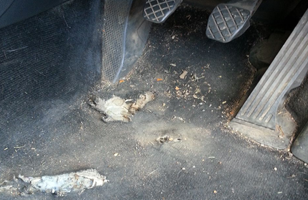 After
Pet Damage
Before
After
Regular care for your carpet
Whilst carpets are designed to be durable and hard wearing, they still require constant care and consideration to stay looking like new and to extend their life.
Very little equipment is required to maintain carpets. A good vacuum cleaner is essential as well as a reputable carpet shampoo. Regular vacuum cleaning will remove gritty dirt, germs, and bacteria that will damage fibres.
Wine Stains
Regardless of the colour or pattern of your carpet, there is nothing worse than seeing a glass of red wine spilling, what feels like slow motion across your carpet and quickly soaking in. There are numerous tips online for reversing the damage such as dabbing, spilling salt or even opening a bottle of Chardonnay and covering it over the stain.
But if you have an unfortunate wine stain that won't budge and the damage looks irreversible, call us at Carpet Surgeon first before you do anything ELSE. We have a saying here at Carpet Surgeon, "don't despair, we can repair!"
Commercial carpets
Company rugs and carpets are often frequented by employees, visitors, and customers. This can leave your carpets looking like eyesores from stains (tea, coffee, and mud being only three to list!) burns and wear and tear.
With all of this foot traffic when business is booming and that takes its toll on even the best carpets. Whether your carpet is threadbare, frayed, worn, burnt, torn or stained, we can fix it! Expect a can-do attitude. There's not much beyond our specialist team! We can repair any trip hazards in your company to comply with health and safety. No blame no claims.
We have over 30 years of experience in professional carpet repair so you can expect an exacting standard from our carpet surgeons.
Commercial carpet repair and fitting in Tamworth
Carpet Surgeon is based in Tamworth, Staffordshire. The areas we cover are, Atherstone, Burton-upon-Trent, Birmingham, and Lichfield. Located at the heart of England, we have easy access to travel nationwide, taking our excellent services to Manchester, London and further afield.