Carpet Burns
Before
After
Commercial Carpet Repairs
Before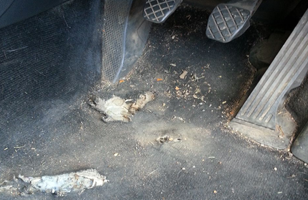 After
Pet Damage
Before
After
What to do if you need urgent carpet fitting for a wedding venue
Anyone in the wedding industry will appreciate how important it is for every element of a bride and groom's big day to be perfect, right down to the finest detail.
If you operate a wedding venue, you'll know that creating the best environment for that once-in-a-lifetime event is key to the success of your business.
This starts with providing the perfect setting for the wedding to take place in. The ceremony room, function suite or marquee that will host a wedding is the foundation for the big day, from the lighting and décor to the curtains and carpets.
We count a number of hotels, retailers and leisure operators among our base of loyal customers, such as Drayton Manor Hotel, Best Western Hotels, Ramada Hotels, Harvey Nichols and Multiplex Cinemas. This means we are experts when it comes to carpet fitting for wedding venues.
A professional and flexible service for your commercial carpet fitting
When it comes to carpet fitting for wedding venues, we appreciate your need for flexibility and professionalism. Just as with any commercial carpet fitting, we work quickly and quietly and at hours to suit you, in order to avoid disruption to your business, its customers and employees.
This can sometimes mean working at evenings or weekends, outside normal hours, or at short notice. We recently fitted a carpet at Brook Marston Farm Hotel, near Sutton Coldfield, which had to be laid the evening before a wedding the next day. Not only did the job have to be completed in time, but it also had to be completed to the high standards expected of a luxury wedding venue.
If you have an urgent job, we will do our utmost to get it done in the time available, so make sure you get in touch with us straight away – even if you think it might be too late. As local carpet fitters, we are often able to accommodate your urgent requests, especially when there is a big event, such as a wedding, coming up.
At Carpet Surgeon, we supply, as well as fit, carpets and have a range of carpets to choose from to suit all tastes, budgets and requirements. Carpet fitting for wedding venues requires consideration being given to the material and durability of the carpet fitted, as well as the style and colour. There can be a lot of foot traffic when business is booming and areas with high footfall obviously need more durable carpets to last as long as possible.
Our expert advice, choice of carpets and carpet fitting service makes us the perfect one-stop shop for commercial carpet fitting. As was the case with the Brook Marston Farm Hotel, this enables us to offer a quick service with a quick turnaround where speed is of the essence.
Out of hours carpet fitting service
Carpet Surgeon is a popular choice among local businesses and we will always try to get the job done as quickly as we can. We are committed to supporting our fellow local businesses and providing complete satisfaction, so we will go above and beyond to meet your urgent requests where possible.
With more than 30 years of experience in professional carpet fitting and a 'can do' attitude, you can expect high standards from our team.
If you're a wedding venue or other business with a need for an urgent but professional carpet fitting in time for a big event, then look no further than your local Tamworth carpet fitting specialists, Carpet Surgeon.