Carpet Burns
Before
After
Commercial Carpet Repairs
Before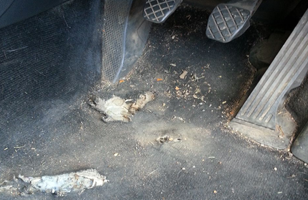 After
Pet Damage
Before
After
Modern Outdoor Living with Artificial Grass in Lichfield and Atherstone
Over the past few years there has been an upward trend in utilising outside space to make the most of your property. A great way of maximising the potential space your house has to offer is by viewing your garden as another room in your home.
There are some exceptionally beautiful homes in Lichfield and Atherstone and it has become very popular to have bi-fold doors installed so that their kitchens open up fully to the garden. Others have had summer houses built or outhouses converted into games rooms. Especially in the more rural areas of Lichfield and Atherstone, more and more people make the choice to work from home and have purpose-designed office pods installed in the garden.
All of these added features help you make the most of your property and also turn the garden into a space that can be used all year round. With your property looking amazing you need a garden to match. It's no good having a light and airy office space to work in if you have to navigate across an expanse of muddy grass in the morning to get to it.
Benefits of Using Artificial Grass
Artificial grass has therefore become an increasingly popular choice in Lichfield and Atherstone for those wanting a luscious looking garden all year round. It is a zero maintenance choice that fits well with our busy, modern lives.
Gone are the days when artificial grass looked like your greengrocer's mat curling up at the edges. These days artificial grass is being used in some extremely prestigious places. The technology has been developed to create artificial grass that looks as good as the real thing - but without all of the hard work.
Artificial grass is perfect for those shady areas where you just can't get a lawn to grow properly. Having an artificial lawn laid will mean that you no longer have to worry about weeding, watering or mowing. In fact, having artificial grass will mean that you now don't need a lawnmower at all; so it won't matter that you've already turned your garden shed into something more beautiful.
Artificial grass is suitable for families with pets too. They won't be able to dig it up like real grass and a simple hose down will keep it looking as good as new.
Laying Artificial Grass Professionally
In Lichfield, Atherstone, Tamworth and surrounding areas we have expert artificial grass layers who can be trusted to do a professional job. Whatever the shape of your garden, whether an edging border will be needed or not, you can be confidant that it will be laid perfectly.
Care will be taken in the preparation. Existing turf or surfaces will be lifted and the exposed substrate assessed. Hard-core, sharp sand and a weed membrane will be used to ensure a level surface before laying the artificial grass. There will be no gaps or visible seams and the artificial grass will not ripple or buckle over time.
A Bit of Added Luxury
Stepping out onto your new artificial grass lawn will be just like walking onto an outdoor carpet; creating an extra room that you'll want to use every day of the year.
You can choose between different styles of artificial grass that combine different colour shades and textures for a natural looking effect.
Whichever lush artificial grass you choose, you can be sure that it will continue to look as lush and as vibrant as the day that it was expertly laid.
To look at our artificial grass samples and to discuss your garden in detail call 01827 261782.
If you live outside of Tamworth, Lichfield or Atherstone call 0789 999 2424 to confirm that we cover your area.