Carpet Burns
Before
After
Commercial Carpet Repairs
Before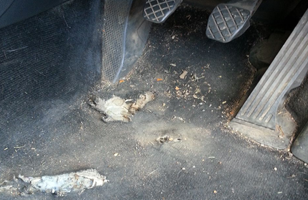 After
Pet Damage
Before
After
Luscious green grass to be proud of with our artificial lawn fitting service
It's a busy time of year for our artificial lawn fitting service and our experts are currently working hard transforming the gardens of Tamworth into lush everlasting lawns.
This includes a recent artificial lawn fitting job in Glascote village, Tamworth, where we replaced a 70 square-foot section of turf with artificial grass.
Artificial grass looks amazing and is growing in popularity all the time. It's becoming an increasingly common feature of gardens and sports pitches across Britain for a number of reasons, which you can read more about in our previous blog on the benefits of artificial grass.
The success of your new ever-lasting lawn does rely to a large extent on how it is installed and like many things, it pays to make sure the job is done professionally in the first place. We are experts when it comes to artificial grass – it's basically just an outdoor carpet after all – and when you call us in for the job, you can rest assured that it will be done properly.
It doesn't matter what shape your garden is and whether you need an edging border or not, we can install your artificial lawn for you.
Look at our artificial grass samples to help you decide
The design and manufacture of artificial grass has moved on significantly in recent years and you'll be hard pushed to tell the difference between real and artificial lawns.
There are now many different styles of artificial grass to choose from, and there are various considerations when it comes to choosing the right one for you.
As part of our artificial lawn fitting service in Glascote, Tamworth, and the surrounding areas, we will show you samples of the different styles available, combining different colour shades and textures for a natural looking effect.
We will also discuss your garden with you in detail for a perfect end result. No matter what style you choose, you'll end up with a lawn that will continue to look as lush and vibrant as the day it was first installed.
Installing your artificial grass
The installation of your artificial grass needs a professional touch if it's to stand the test of time. It's important that the ground underneath is prepared correctly to make sure the new lawn doesn't ripple or buckle over time.
We will take great care in that preparation during a meticulous process which involves lifting existing surfaces and assessing the exposed substrate. Hard-core, sharp sand and a weed membrane will then be used to make sure the surface is completely level before the artificial grass is laid. All these factors are a vital part of the process to ensure the drainage is good and that you'll never have to weed your lawn again. There will be no gaps or visible seams and stepping out onto your new artificial grass lawn will be just like walking onto a carpet.
To take advantage of our artificial lawn fitting service and to discuss your garden in detail, contact Carpet Surgeon or call 01827 261782 for a quote.