Carpet Burns
Before
After
Commercial Carpet Repairs
Before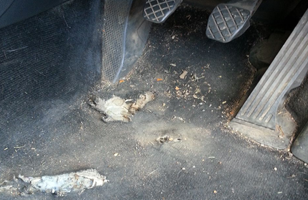 After
Pet Damage
Before
After
Expert carpet repairs as Birmingham Airport
Although we're often fixing carpets at a variety of different venues, we recently completed a commercial carpet repair with a bit of a difference.
We were called to the new, soon-to-be-opened, Hilton Garden Inn hotel at Birmingham Airport which has been built using modular technology by Bowmer & Kirkland, working in partnership with CIMC Modular Building Systems.
This innovative construction technique uses cutting-edge technology to enable components of the hotel, including guest rooms and corridors, to be ready-made from converted sea freight containers in China and transported to site for final assembly.
Where do we come in I hear you ask? Well, although this modular build construction generates superior cost and time efficiencies, the contents of the fully-fitted hotel modules can move around during shipping to the UK, sometimes damaging the carpets in the process.
As we're experts when it comes to fixing damaged carpet, we came up in a Google search of 'carpet repairers' by the client, CIMC Modular Building Systems, and were called in to help.
Commercial carpet repair of the highest standard
While the modular building technology is cutting edge, our traditional techniques were required to ensure this commercial carpet repair was carried out to the high standards expected of such a modern development.
The Hilton Garden Hotel is a 178-guestroom facility located next to the passenger terminal at Birmingham airport and within walking distance of the National Exhibition Centre and Genting Resorts World. As this is a brand new hotel, in a prime location, which will host visitors from across the world, expectations will be high when it first opens to guests this summer. This meant the standard of finish had to be perfect, leaving the carpet looking as good as the day it was laid and removing all evidence of its long journey across the sea.
Luckily, with our 30 years of experience in the carpeting industry, we know a thing or two about commercial carpet repairs, including hotel carpet repair, and delivering a seamless finish is our speciality.
Cost effective carpet repairs
Repairing carpets is much more cost effective than replacing the whole carpet – a fact appreciated and understood by CIMC Modular Building Systems when the company trusted us with the job of making sure the carpets did justice to the overall finish of their hotel modules.
As carpet repair experts, we use a variety of traditional techniques to repair damaged, worn or wrinkled carpets. This includes stretching, re-tufting and micro-shearing for perfect, affordable repairs that are carried out quickly and with minimum disruption to the day-to-day operations.
No two days are the same in our business and we work with a variety of clients, from the residential homeowner to large corporations and leisure and tourism operators - but we have to say that this was a particularly interesting job.
As a business division of CIMC Group, CIMC Modular Building Systems has grown into the largest provider of modular building systems in the world, so to add them to our list of clients was a real coup. However, our tried and tested techniques never fail, and the results once again speak for themselves.