Carpet Burns
Before
After
Commercial Carpet Repairs
Before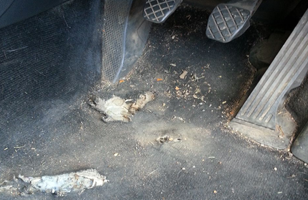 After
Pet Damage
Before
After
An easy and convenient way to carpet your whole house
Although we are experts in carpet repair and specialise in making your damaged carpet look good as new, there are times when a new carpet is required.
Did you know that we also offer carpet supply and carpet fitting services? We supply and fit carpets for your one stop convenient service. We have a range of carpets to choose from to suit all tastes and budgets. We will even come to your home for the selection process, so you can source a new carpet and arrange delivery and fitting without even leaving the house.
Whole house carpet fitting in Stonydelph, Tamworth
We've just carpeted a whole house for a customer who found us on Google when looking for carpet fitting services in Stonydelph, Tamworth.
Carpeting a whole house is a significant undertaking, but using Carpet Surgeon means you can get the whole process done from start to finish; as quickly as possible and with minimum disruption.
You may have recently moved to a new house, or you may just want to save money and time by getting tired carpets replaced in one go. Whether you want the same carpet throughout, or different carpets for different rooms – we can make sure the project is managed smoothly and efficiently.
Expert advice for your carpet choice
It's fair to say that after 30 years in the industry, we know a lot about carpets. Because we also specialise in repair services, we know which carpets and fibres are best suited for different requirements.
Choosing a carpet is not just about picking one you like the look of. Some will last longer than others and some will be more hard-wearing than others, for example. Factors such as what the room is used for, how often you're likely to vacuum, how much sunlight the room gets and so on, will all have a bearing on the best carpet choice.
Our expert team members can help you choose a carpet that meets your requirements and provides the best value for money.
Carpets to suit all tastes and budgets
We have carpets to suit all tastes, requirements and budgets. We can also advise you about, and source, any underlay, grippers and door strips you need to ensure you get the best out of your carpet for years to come.
Our service is also incredibly flexible. If you've seen another carpet elsewhere, that's fine – we can either source it for you, or we're equally happy for you to buy your carpets yourself and we can fit them for you.
Professional carpet fitting services
Whether you're looking for professional carpet fitting services in Stonydelph, Tamworth, or the wider Staffordshire area, we will fit your carpets with skill, expertise and care.
Carpets only look their best if they are laid correctly, and our professional carpet fitters know how to do this from start to finish.
Measuring up – Professional carpet fitting starts with proper measuring up to minimise waste and reduce cost.
Preparation of the sub-floor – It is essential for your carpet fitter to understand different sub-floor types and to ensure this is correctly prepared if you want to achieve a perfectly smooth finish.
Fitting – The pattern of the carpet, the direction of light, pipework and any other features have to be taken into account when fitting a carpet. Carpet has to be stretched properly and fixed appropriately to achieve a smooth fit.
Edging – Carpet edges and joins need to be perfectly executed for long-lasting results. You don't want obvious joins or edges that are likely to fray or unravel.
We pride ourselves on a high standard of work and excellent customer service. Please feel free to get in touch to discuss your specific requirements for carpet fitting services in Stonydelph, Tamworth, Staffordshire and surrounding areas.