Carpet Burns
Before
After
Commercial Carpet Repairs
Before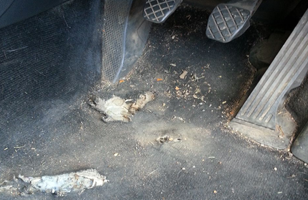 After
Pet Damage
Before
After
Carpet Stretching and Fitting in Four Oaks
Have you just moved into the Four Oaks area? If the answer to this is yes, then hello from your local, family run soft flooring servicers! As part of the local community we offer services to those living in and around the Birmingham, Sutton and Tamworth area.
When moving into a new property there is a lot to think about. It takes time to get everything moved in, purchasing new furniture, re-doing the windows, setting up the broadband and then finding out there's a problem with the gas or electric. If you've just moved into a new property and are keeping the soft furnishings let us handle one thing off your to-do list, we will get your carpet looking fresh and feeling new!
Older carpets can have bubbles and furniture imprints in them, to combat this we offer a carpet stretching service to remove any indentations, in turn sprucing up your house and turning it into a home.
For example, one new tenant we have recently seen in Four Oaks moved in to a beautiful house that use to have a piano situated in the drawing room. This was clear by the apparent dents in the carpet from the heavy instrument. The carpet was still beautifully kept and the home owners wanted to keep this in. First of all they thought about replacing the carpet, however couldn't find a soft flooring that matched their requirements, on top of that they didn't really feel like throwing out a perfectly good carpet for they sakes of a few indentations. This is where we step in.
No job is too big and will cost you a fraction of the price of buying new carpets or claiming on your house insurance! We can even recommend a local carpet cleaner in order to make the carpet really feel brand new! However, if you do purchase a new carpet or soft flooring we do also offer fitting to the highest possible standard!
If you need a carpet stretching due to imprints left by old tenants and live in Four Oaks and the surrounding areas, or you've had a rearrange in your home and the flooring needs a stretch - for any of your commercial or domestic soft flooring needs get in touch today, and The Carpet Surgeon can come to your rescue. If you intend to keep your carpets full size this year, contact Paul at Carpet Surgeon on: 01827 261782 or email paul@carpetsurgeon.co.uk. Carpet Surgeon doesn't clean the carpets, but we can always recommend an established local carpet cleaner, Cathedral ChemDry.