Carpet Burns
Before
After
Commercial Carpet Repairs
Before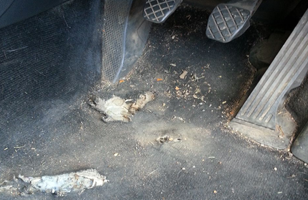 After
Pet Damage
Before
After
Carpet repairs on burns for landlords
Carpet burns
One of the biggest headaches for landlords is the inventories, the dread of discovering damage to your property, especially the carpets. According to a recent study by Total Landlord Insurance (TLI) who investigate property damage caused by tenants, says the average bill for damage to rental properties is £759 – involving replacing damaged carpets. Most damages to carpets include; accidents, spillages, and burns (irons, cigarettes or coal)
Landlords attempting to claim through house and contents insurance are usually faced with exemption due to 'get out clauses' within the terms and conditions of their policies. They find themselves forking out for the replacement for new carpets within their properties.
Who can repair my carpet?
Are you a landlord who has found cigarette, iron and coal burns in your carpets? Don't panic, here at Carpet Surgeon, we have a saying "don't despair, we can repair!"
With over 30 years of experience, we can repair a wide range of repairs on various burns on both the quality and style of carpets. Our friendly and family run business will have your carpets looking like new in no time.
What repairs do we offer?
Iron burns
Iron burns are a common occurrence, once an iron is accidentally dropped, it leaves an unsightly scorch mark. In most cases, patching is not always necessary, and a quick repair can be carried out with micro shearing. If patching is required, don't worry, it won't be noticeable, will look as good as new, and at a low cost. Our specialty is seamless.
Cigarette and coal burns
Another common occurrence in the home, cigarette and coal burns on carpets can appear dark and deep to touch. These particular burns will require a patch repair, so you will need to dig out a spare piece of your existing carpet.
So, if you come across a burn (or more) to your carpets. Don't dismay and consider replacing them at such an excessive cost, our expert team at Carpet Surgeon will do a quick and cost-effective repair.
At Carpet Surgeon we are environment-friendly. Our initial goal is to repair your carpets, ensuring your carpets looking like new, this reduces the need to remove and dispose of bulky carpets at the local landfill that produce more waste and cost.
Carpet repair near me
Carpet Surgeon is based in Tamworth, Staffordshire. The areas we cover are, Atherstone, Burton-upon-Trent, Birmingham, and Lichfield. Located at the heart of England, we have easy access to travel nationwide, taking our excellent services to Manchester, London and further afield.
If you are a landlord within reach of Tamworth and have a carpet crisis, we are experts in carpet burn repairs and will get your carpet repaired in a cost-effective manner, at a time convenient to you. Contact our expert team to find out more about carpet burn repair.
Give us a call.