Carpet Burns
Before
After
Commercial Carpet Repairs
Before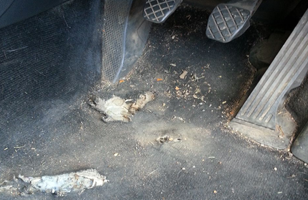 After
Pet Damage
Before
After
Carpet repairs near Tamworth
If you need help with a carpet repair, you need look no further than Carpet Surgeon.
With more than 30 years of experience in the soft-flooring trade, there's not much we haven't seen and we're used to coming to the rescue for all types of carpet repairs near Tamworth.
If you've ever found yourself in that unfortunate position of staring at a massive red wine stain, an unsightly iron burn, or a huge rip or hole in the carpet, then you'll know that feeling of dread that comes with it and you'll want it sorted as soon as possible.
No matter what the carpet damage or stain, there's every chance that we can fix it – hence our motto – don't despair, we can repair. The important thing is not to write the carpet off assuming you need a new one.
Quick quotes for carpet repairs near me
If you do have a damaged, worn or stained carpet, you probably want to get it fixed straight away – it could even be that you have a special occasion coming up, or maybe the damaged carpet is in a commercial premises and therefore it just can't be left for days on end.
The main thing is figuring out what you're dealing with and whether it can be sorted. All you need to do is simply send us a photo of the damage or stain and we'll be able to tell you if we can repair it and how much it will be.
If it's a carpet repair emergency – perhaps you operate a wedding venue and you've had a carpet mishap ahead of someone's big day, or you have a naughty puppy who's decided to rip your carpet and you have friends due for dinner in a few days – just let us know the circumstances and we'll do our best to sort it for you in time.
Seamless carpet repairs for all kinds of damage
We're experts when it comes to seamless carpet repair and, in most cases, you won't be able to see any evidence of that stain, wear, tear or burn after we've finished with it. This has made us the 'go to' carpet repair company in Tamworth and surrounding areas for both domestic and commercial properties.
Carpets get ripped and damaged for many reasons, whether it's a DIY mishap, pet damage, or fraying due to a poor fitting, it could be a spillage, or it could be worn and lumpy, or it might just need a new lease of life.
We have an in-depth knowledge of carpets, fibres and underlay and we have the tools and techniques for every job.
These specialist techniques include re-tufting, re-patching, colour matching replacement and micro-shearing. And we can repair vehicle carpets too!
Whatever your dilemma, we have probably carried out a similar job at some point over the years – just check out our carpet repair before and after photos to see what we can do. You can also contact one of our friendly advisors for more information about carpet repairs near Tamworth.