Carpet Burns
Before
After
Commercial Carpet Repairs
Before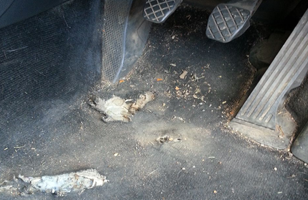 After
Pet Damage
Before
After
Your Local Tamworth Carpet Repair Service
I'd like to say that the market town of Tamworth started with humble beginnings, but as the middle England ancient capital of Mercia, dating back from Saxon times of around 757 and boasting its very own Castle… Tamworth certainly has an interesting reputation to live up to.
Helping to keep up appearances, Carpet Surgeon has loyally served the Tamworth community for over 30 years, restoring and repairing carpets for local residents and businesses within Tamworth and its surrounding areas.
And as your local Tamworth carpet repair team, here's a quick reminder of our convenient options to transform and repair your carpets in Tamworth.
The Tamworth Carpet Repair Manifesto
As famous politician, Sir Robert Peel laid down the Conservative standards in the Tamworth Manifesto, we too at Carpet Surgeon are setting standards for expert carpet repair in Tamworth.
Whether carpet damage was caused by burns from a dropped iron, a worn patch from general wear or a small fray that has rapidly turned into a large tear; Carpet Surgeon can completely transform damaged sections of carpets1 back to their original state, without the need for an expensive replacement.
Setting the standards with our expert techniques, such as re-tufting, weaving and micro-shearing, Carpet Surgeon forges a new path for expert carpet repairs that avoid the patchwork look and delivers seamless repairs that leave you wondering where the original damage was to begin with.
Stay Reliant Robin on Vehicle Carpet Repairs
Tamworth has maintained its love of cars from the famous development and manufacture of the lovable 3-wheeled Reliant Robin, to the modified high-powered cars often displayed at McDonald's car parks.
Supporting Tamworth's car maintenance interest is Carpet Surgeon's highly recommended vehicle carpet repair service2.
Rather than put up with an unsightly tear or cigarette burn on your vehicle carpet (which considerably reduces the appearance and value of your car); Carpet Surgeon can repair damaged carpet sections using specialist re-patching and integrating tools.
With our Tamworth vehicle carpet repairs, you are left with a flawless looking interior and a strengthened carpet section that can withstand the continuous friction generated from our many Tamworth roundabouts.
From Business Parks to Pets-at-Home
Carpet Surgeon's expert carpet repairs have also catered for many professional Tamworth businesses such as Drayton Manor Hotel, to Blue Water Indian Restaurant.
Providing expert commercial carpet repairs3 allows businesses to avoid unnecessary expense from replacing whole sections of carpet and ensuring quick, convenient repairs that remove trip hazards from torn carpets and improves the appearance and reputation of the business.
With carpet repairs carried out on weekends and out of service hours, Carpet Surgeon is a popular choice for local Tamworth businesses who continue to support local services like Carpet Surgeon which in turn benefits the local economy.
Pets at Home Causing Carpet Damage?
Included in the long list of services carried out by Carpet Surgeon are also repairs to carpet damage caused by pets4.
So as a town of animal lovers, we know our Tamworth pets can often claw, chew and dig our once pristine carpets until they are just a memory of their former selves.
However Carpet Surgeon offer a hassle free option to repair even larger sections of pet damaged carpets to restore your carpet and room once again.
As pet damage is not always covered by your home insurance, Carpet Surgeon's repair service is a cost effective way to renew your carpet without increasing premiums or purchasing replacements.
Supporting Your Local Tamworth Carpet Repair Team
As a friendly, family-run Tamworth business, Carpet Surgeon are delighted to continue serving the pet loving, car appreciating, rich heritage residents and businesses of Tamworth, Staffordshire.
So if you have carpet damage, don't despair – Carpet Surgeon can repair.
For a surprisingly affordable, convenient and amazing carpet transformation – call your local Tamworth carpet repair team on 01827 261782 or contact us by email here5.
Reference Links:
1: https://www.carpetsurgeon.co.uk/carpet-repair
2: https://www.carpetsurgeon.co.uk/how-to-repair-a-car-or-vehicle-carpet
3: https://www.carpetsurgeon.co.uk/commercial-carpet-repairs
4: https://www.carpetsurgeon.co.uk/hassle-free-solution-pet-damaged-carpets
5: https://www.carpetsurgeon.co.uk/contact-us