Carpet Burns
Before
After
Commercial Carpet Repairs
Before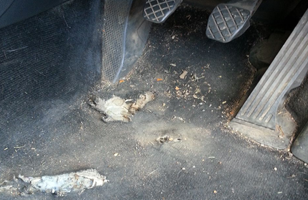 After
Pet Damage
Before
After
Who did damage our carpet
Napoleon Bonaparte was once quoted as saying that "there is no such thing as an accident; it is fate misnamed." If this is true then it must have been the Gods who decided to damage your carpet and you should take comfort in the fact that there was nothing you could have done to avoid it. There's additional comfort to be had in the fact that we're experts in carpet repair and so irrespective of whether it was an accident or destiny we can have your carpet looking as good as new in no time at all.
There are many ways in which a carpet can be damaged (believe us, we've seen them all over the 30+ years we've been operating); iron burns, pet damage, cigarette burns and spillages are just a few examples but irrespective of the cause of the damage we're supremely confident we can take the necessary steps to resolve the problem. That we're based in Tamworth makes us ideally situated to service the whole of the UK; our central positioning with the United Kingdom means we can reach pretty much anywhere within a few hours.
Throughout England there are bound to be tonnes of carpet repairers who promise to repair your carpet cheaply and effectively. However, we believe we are up there with the very best of them and the testimonials we receive from our satisfied customers are testament to that. Click the relevant link on our webpage to see some examples of what our clientele have said. Too many people needlessly have their damaged carpet ripped up and replaced with a brand new one. Not only is that an expensive option, it also contributes to the increasingly-serious problem of recycling – that damaged carpet is bound to end up on a landfill somewhere when we're able to provide a much better alternative – we'll repair the damage for a fraction of what it would cost to replace the carpet and we'll take pride and care in doing so.
Sure, you could make a claim on your insurance but are you sure you're covered? Many policies now exclude accidental damage to carpets and even if they do cover it there's likely to be excess to be paid. The renewal of the policy the following year is likely to increase too. In short, if damage has been done to your carpet then there isn't really any reason we can think of to not give us a call before doing anything further!
Of course we're bound to say that but giving us a call or dropping us an email with details of the problem is something you should always consider: our warm and friendly team will get back to you quickly and we'll be honest too – if we genuinely don't think we can get your carpet repaired to an exceptional level then we'll tell you. Above anything else we want you to be satisfied with the carpet repair service that we offer. There are several reasons for this. We take pride in what it is that we do, we want to uphold the reputation we've built up over the years and bad news travels faster than good! If you're not completely satisfied then you're far more likely to tell people to avoid us rather than recommending us when satisfied.
Napoleon (who we quoted at the beginning of this piece) is renowned for being one of the greatest commanders in history; we'd love to be renowned for being one of the greatest carpet repairers in history! So get in touch today and see how our expert carpet repair team can be of service to you.