Carpet Burns
Before
After
Commercial Carpet Repairs
Before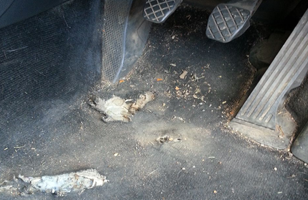 After
Pet Damage
Before
After
Where to go to Repair a Car Carpet?
The car was a bit above your budget when you purchased it, but this time you promised yourself you would definitely get your money's worth.
A few years down the line and you managed to keep your word; the carpets in your car are a striking testimony to that.
The car carpets are patchy and shiny from overuse and there's still that unmistakable burn mark on the car floor from the cigarette + speed bump incident. But what's really irritating you is that ripped section right under your accelerator pedal which just can't be hidden with any well positioned mat.
The realisation hits you that if you could just get the carpets fixed, it could completely transform the whole look of the car and perhaps… just perhaps, you can sell it for a decent price.
Finding the Solution to Car Carpet Damage
It's true that most people will initially consider asking their local car dealership or garage mechanic for repairs; only to be told the whole carpet would need to be replaced for a rather large fee.
Then of course, there's always the DIY approach of replacing the carpet. However as all in one car carpets often require the removal of seats and moulding to the shape of the vehicle floor, it's not a decision to be taken lightly.
The final, and most reliable idea is to bring in a professional. Someone that doesn't need to replace the car carpet, but can repair the damage.
Carpet Surgeon Seamless Repairs (pun intended)
When it comes to speedy and seamless repairs, you need a carpet repair professional with a hand as steady as a surgeon.
Carpet Surgeon has been repairing vehicle carpets for over 30 years and possess the ability to replace and interweave sections of your car carpet for a completely flawless look. You can view before and after images of our transformations here.
We work hard to provide our customers with the service WE would expect if roles were reversed. That's why many of our satisfied customers have left testimonials of our punctual, quick and detailed oriented service.
With Carpet Surgeons expert repairs to vehicle damaged carpets, you can be sure of a long term solution and without the need to remortgage just to cover the costs. Our affordable car repair service is a convenient way to renew your car carpets to a standard that will allow you to clean, vacuum, scrub and reuse them again and again without undoing our hard work.
What to Expect with Carpet Surgeon
To access our highly recommended service, you can contact us to arrange a time for the damage to be assessed and for us to identify the carpet type, colour and repair technique required that is cost effective without compromising on quality.
Following a repair appointment, our friendly staff will travel to your UK location from our convenient base in the Midlands and complete the repairs the same day*
Can Carpet Surgeon deliver on its promise to repair your car carpet?
Carpet Surgeon has flourished as a business for over 30 years by receiving much of its work through recommendations. That in itself, and the testimonies of satisfied customers such as Harvey Nichols, proves that Carpet Surgeon is a reputable business that you can trust.
For any questions you may have regarding car carpet repair and to contact your friendly team at Carpet Surgeon visit our contact page or call 01827 261782 today.
*depending on the extent of the damage, a longer repair time period may be required in which case you will receive prior notification