Carpet Burns
Before
After
Commercial Carpet Repairs
Before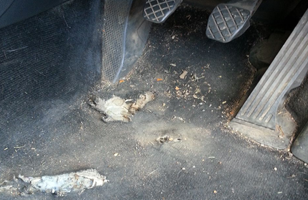 After
Pet Damage
Before
After
Not 'The Birmingham Carpet Salesmen' but the 'Birmingham Carpet Surgeon'
Brummies will be familiar with the shiny golden statue of three men on Broad Street, Birmingham. The sculpture is nicknamed 'The Carpet Salesmen' because it looks as though the men are examining carpet samples.
Of course the three men are famous pioneers of the industrial revolution from Birmingham so it isn't samples of carpet they're looking at but engine plans. However, it would have been the combined inventions of Birmingham's James Watt, William Murdoch and Matthew Boulton that enabled the industrial production of carpets in the first place, supporting luxurious wall-to-wall carpets to be fitted.
Unfortunately, just because you have a beautiful carpet laid doesn't mean that it will stay that way; accidents happen.
Whatever precautions you try take to keep your carpets looking their best such as taking your shoes off at the door or not eating in the living room; you can guarantee that at some time you have an accident that spoils it. However, don't despair, we can repair! - the motto of Carpet Surgeon's Birmingham carpet repair service.
Carpet Repair in Birmingham
Most people don't realise that a damaged carpet can be repaired. It can.
Before you start imagining a patchwork effect result, bear in mind that many carpets have imperfections darned and repaired during the manufacturing process. That's before the carpets are even sold and laid.
Obviously it is a skilled job that can't be done by just anyone. Which is why, if you need carpet repair in Birmingham, you need someone with the skills to do it – Birmingham's Carpet Surgeon.
Carpet Surgeon's expert Birmingham carpet repair service has over thirty years' experience in repairing carpets of all types. Whether it's plain or patterned, cut pile, loop pile or both, whatever the fibre, an almost invisible-to-the-eye repair can be made resulting in your carpet looking like new again.
Carpet Surgeon has specialist tools including needles, scalpels and micro-shearers to ensure even the most obvious damage will become an invisible repair.
What Carpet Damage Can Be Repaired?
For domestic carpet repairs in Birmingham, Carpet Surgeon is most often called out to for damage caused by pets, burns from coal fires, irons and hair straighteners or spillages that have left stains that cannot be removed.
Birmingham has a huge commercial sector. The majority of carpet repair jobs undertaken by Carpet Surgeon for Birmingham businesses has been to;
make good general wear and tear
re-lay buckling carpets as a health and safety precaution
repair worn and fluffy joining seams that make a carpet look untidy.
Offices, workshops, retail shops and public buildings all need to ensure that their carpets look good and are safe. Carpet Surgeon's carpet repair Birmingham services can address all of these issues.
Why Replace When You Can Repair?
There are many reasons to repair a carpet rather than replace it.
It may be that your carpet matches other carpets or furnishings and it would be difficult to match up a new carpet. For most people though, whether for a commercial or a domestic carpet the main reason will be cost. Carpets are expensive and if an accident has happened to an otherwise good-looking carpet you are probably not prepared for the expense of replacing it. Using the Birmingham carpet repair services of Carpet Surgeon will potentially save you hundreds of pounds.
What about claiming on your household insurance? Even if the damage is covered on your policy why not get a quote from Carpet Surgeon first? You may be surprised to find the repair costs less than your excess and you won't be stung with increased insurance premiums next year.
Carpet Surgeon, Birmingham, has also come to the rescue for tenants and landlords for whom replacing the carpet at that time has not been an option.
Don't Call a Salesman, Call a Carpet Surgeon
Inventions have come a long way since the industrial revolution. The good news is that the cutting edge techniques used by Carpet Surgeon's Birmingham carpet repair service means that you won't even need a carpet salesman.
For evidence of Carpet Surgeon's excellent workmanship take a look at Carpet Surgeon Birmingham customer testimonials or commercial case studies here or use the contact form to obtain a quotation.
Of course if you prefer just call Carpet Surgeon Birmingham directly on 0789 999 2424 to arrange a hassle-free carpet repair.