Carpet Burns
Before
After
Commercial Carpet Repairs
Before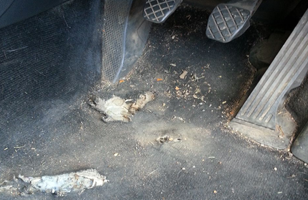 After
Pet Damage
Before
After
Tamworth Carpet Burn Repairs Experts for tenants
Accidents happen
Accidents are defined as 'an unfortunate incident that happens unexpectedly and unintentionally, typically resulting in damage or injury', and they happen to everyone. Every tenant's nightmare is accidental damage in their rental property.
Bearing in mind whatever the damage is, this will be deducted from your initial deposit at the end of your tenancy agreement. This deposit is just as important to be used for your next future home. Any damage that is made within a property, tenants must report it immediately to their landlord to be repaired. You might be tempted to carry out a DIY repair but believe us we've seen them all and you are at risk of making the damage worse.
Burns to carpets
Common damage to carpets includes spillages, burns and pet damage. But let's talk about the burns. If you have discovered or have accidentally caused iron, coal or cigarette burns to your carpets, before you and your landlord start looking at costly carpet replacement, Carpet Surgeon has a saying: "Don't despair, we can repair!" With over 30 years of experience, rest assured we will have your carpet looking like new in no time, at a fraction of the price of a new carpet!
Cigarette and coal burns
You may not be a smoker yourself, but whilst hosting a party, someone has had a sneaky cigarette and there is evidence of this on your carpet? The last thing you want to do is report this to your landlord, especially if it is a non-smoking rental agreement. These burns look dark and deep in appearance. If you can find a spare piece of the same carpet, Carpet Surgeon will do their magic using a patching process making a vanishing act to your burns – at a low cost!
Iron burns
As always, like dropped hot toast always falls butter side down. Same with irons, unfortunately, hot side down. This happens all the time. Don't panic, our experts at Carpet Surgeon have repairs that will make your carpet look like new. These processes are either micro-shearing or patching and once our experts have carried them out, your scorch marks will go without a trace. Seamless is our specialty!
Carpet repairs near me
Carpet Surgeon is based in Tamworth, Staffordshire. The areas we cover are, Atherstone, Burton-upon-Trent, Birmingham, and Lichfield. Located at the heart of England, we have easy access to travel nationwide, taking our excellent services to Manchester, London and further afield.
If you are a tenant within reach of Tamworth and have a carpet crisis, we are experts in carpet burn repairs and will get your carpet repaired in a cost-effective manner, at a time convenient to you. Contact our expert team to find out more about carpet burn repair.
Give us a call.