Carpet Burns
Before
After
Commercial Carpet Repairs
Before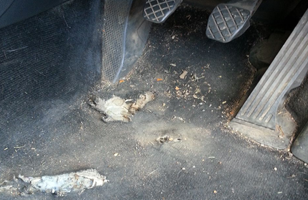 After
Pet Damage
Before
After
Seasons Greetings from Carpet Surgeon
So much preparation goes into creating the perfect Christmas Day but it seems that, still, everyone has their own Christmas disaster story.
"A couple of years ago we had a power cut on Christmas Eve that affected the whole area. The novelty of candle-light wore off after a couple of hours. We had dead mobile phones and no way to charge them, so we turned up unannounced at my parent's house. It wasn't until a few days later that we realised the candles had melted and warped our flat screen TV."
It's a busy time of year for insurance companies. One UK insurance company states that the number of claims for Christmas Day increases by 300%!
As a carpet repair business, we know all too well that Christmas Day festivities can take their toll on your carpet. So, be prepared.
Here's a few things to watch out for to ensure a disaster free day:
If you have a real tree, be careful when watering it not to soak the carpet.
Beware that metal brackets supporting the tree can cut into the carpet. Use a base to spread the load.
Do not place a cut tree trunk directly onto your carpet as tree sap can stain and glue the fibres of your carpet together.
Be extra careful if you light candles or a real fire. Don't leave them unattended (or have your post-lunch nap, leaving them burning). Apart from the fire hazard, dripped wax can result in serious carpet damage.
Of course, accidents can still happen and you can't always avoid the odd glass of sherry being spilled on your carpet, especially after a few too many have been enjoyed. But nothing is going to spoil the festivities at your home this year. Just pour yourself another glass and relax, knowing that you have Carpet Surgeon to come to the rescue once the guests have left.
You know that a quick, hassle-free visit from the Carpet Surgeon will have your carpet looking like new again with a seamless carpet repair. With no expensive bills or the stress of trying to deal with an insurance company.
Your family will be wondering how you're managing to stay so calm and relaxed this Christmas. With Carpet Surgeon on speed dial you are prepared for every eventuality. Stains, melted wax, scorch marks or holes can all be invisibly repaired leaving you with only the wonderful memories of a perfect Christmas Day - and an amusing anecdote to share in years to come.
The number that you need for your speed dial is: Carpet Surgeon - 01827261782. The carpet repair experts.
Now, what to do about those sooty footprints left by the fireplace…?