Carpet Burns
Before
After
Commercial Carpet Repairs
Before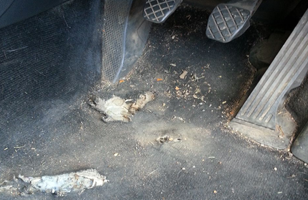 After
Pet Damage
Before
After
Before you replace your damaged carpet, think about the benefits of using Carpet Surgeon
Carpets must be one of the most difficult parts of a house to replace when damaged. Often, you feel like the only choice you have is to tear up the whole room/section and start over. However that increases not only cost but also the time – consider how long it takes to rip up the original, dispose of it, choose new furnishings, and get the carpet fitted. It certainly is not a quick job.
What if we told you there was an easy way? If you're in Tamworth, or the surrounding area, Carpet Surgeon is a family run business that is more than adequately equipped to deal with all your carpet woes.
Carpet repairs in Tamworth by experienced professionals
Carpet Surgeon's specialists are passionate about flooring, and the origins of the organisation can be found in the soft flooring trade. It is this experience and knowledge of the subject matter that motivates us to do the best they can to right your carpet wrongs.
Don't assume that your particular damaged carpet situation is something too far-gone to be restored. Contact us to find out – you would be surprised at what we can achieve. Our specialists can help where your carpets have felt the full force of the iron, had run ins with the family pet (s) or where the delicate flooring has come into contact with destructive substances. The residents of Tamworth are well within the reach of Carpet Surgeon, and by contacting us quickly when damage occurs, you can have access to experts who have your best interests at heart. The professionals at Carpet Surgeon will advise on the best way to deal with your damaged carpet and we can also offer some guidance on how to give a weary looking carpet a makeover! We can repair holes, rips and snags as well as fine-tuning stray edges and re-seaming joins. There isn't much we can't turn our hand to with regards to carpet repairs in Tamworth, so it's certainly worth getting in touch to find out whether your carpet can be restored, effectively saving you all the time and trouble, not to mention expense, of purchasing new.
Benefits of looking into carpet repair in Tamworth
Many of the time saving and financial benefits involved when opting to repair rather than replace your carpet are pretty obvious, but there are other important advantages too. It has recently come to light that some insurance companies will not cover your carpets against accidental damage without a hefty additional charge. Furthermore, premiums which do take into account damage to carpets will still require payment of an excess before any activity is undertaken to resolve the matter. Why suffer financially when the chances are that repairing the damage to your carpet will cost significantly less than the amount it would if you were to insure and then subsequently claim against that insurance? You can benefit financially by utilising Carpet Surgeons carpet repairs in Tamworth, and avoid claiming on your insurance.
If like us, you are sensitive about your carbon footprint, then choosing to use Carpet Surgeon to fix carpet problems would go along way in balancing out your impact on the environment. Tamworth's landfill sites probably have enough to contend with, without having to deal with carpets that in hindsight didn't need to be there. Using Carpet Surgeon would be very much in keeping with the spirit of recycling and helping out with global warming – by repairing your carpet, you won't have to buy new flooring, which means no worries or concerns about how best to safely dispose of your old carpet.
Carpet repairs in Tamworth outside of the home
Carpet Surgeon don't just stop at carpets in homes, as we are able to work our magic almost anywhere! Commercial buildings, community venues and even vehicles have all been subject to the Carpet Surgeon treatment, with amazing results! Also, carpet repairs in Tamworth are not the only thing we offer - Carpet Surgeon are willing to the extra mile to transform environments across the country – no distance is too far.
If your carpet has suffered damage, no matter what, or who the culprit is, call Carpet Surgeon before you consider replacing your carpets, as this could save you money, time and trouble.