Carpet Burns
Before
After
Commercial Carpet Repairs
Before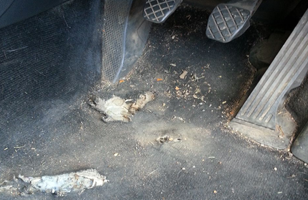 After
Pet Damage
Before
After
Pet Damage Repairs
As anyone with a pet will tell you, having an animal around the house can be (and often is) a wonderful thing. In a 2013 study by the PFMA it was estimated that 13 million (or 45% of) households in the UK have pets. Rather surprisingly fish kept in tanks and ponds account for the top two most popular choices with dogs and cats coming in third and fourth respectively.
Now, there is minimal chance of fish causing any damage to a British household (even if they managed to escape the tank they're only going to make your carpet wet), but for cats and dogs it's another matter. Despite the well-documented loyalty of dogs and the barely-believable independence that almost all cats seem to have they often can't help but scratch the carpets with their claws. The fact that dogs and cats have no concept of monetary value means that it really isn't a consideration of theirs that their owners will have to replace the carpet because of what they've done.
But do you? Have to replace it I mean? Well, in short, the answer is no. The reason is relatively straightforward: the carpet repair team at Carpet Surgeon are experts in making damaged carpets look as good as new without incurring the significant cost of replacing a carpet. Insurance policies often don't cover the cost of a replacement and even when they do it almost always results in a hefty excess fee or an increase in insurance premiums the following year. Or both.
So perhaps it's time to consider Carpet Surgeon! The team are situated in Tamworth which is perfectly positioned within the UK to enable their experts to get to you within three hours - irrespective of where you live. Their family-run business has been operating for over 30 years which should serve as testament to how experienced they are. There are a number of testimonials on their website from satisfied customers which demonstrate the convenient, affordable and hassle-free carpet repair service they provide. Many of the people who have provided feedback comment on just how surprised they are with the results; it's easy for a company to claim they can have something looking 'as good as new', indeed, it's become a sound bite in the repair profession (not just carpet repairs either). However, when the warm and friendly people at carpet Surgeon say they can make your pet-damaged carpet look as good as new they actually mean it.
Sarah in London says that she truly "had no idea it would turn out so well". Interestingly she later goes on to say that "due to my furry felines and their habits I am sure I will be in touch again" for here's the thing: pets aren't just pets! They're members of the family! It's more-or-less impossible to prevent pet damage to your carpets but that doesn't necessarily have to be a cause for despair; if it happens then contact Carpet Surgeon by telephoning 01827 261 782 or 07899 992 424 or get in touch via their contact page where you can type in the specific nature of your carpet damage problem.
It's worth mentioning that Carpet Surgeon aren't just experts in repairing pet-damaged carpets; they'll consider any job however big or small so before shopping around for a replacement carpet give them a try – you won't regret it.
Remember - much like a pet dog - a carpet isn't just for Christmas, so if yours becomes damaged get in touch with Carpet Surgeon and see how they can be of assistance in a manner which is extremely convenient and hugely affordable!