Carpet Burns
Before
After
Commercial Carpet Repairs
Before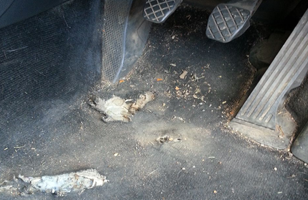 After
Pet Damage
Before
After
The Leys, Carpet Repair Surgeon
When you need a carpet repair and you want someone local, whom you can trust? You don't have to look outside The Leys Tamworth. Although The Leys Cottage Hospital has long gone you still have your own kind of surgeon nearby, the Carpet Surgeon.
The Carpet Surgeon specialises in repairing carpet damage so that you don't have to replace the whole carpet. But just how good can a carpet repair be? What if you're worried that your carpet will never look right again?
Don't worry. What most people don't realise is that rolls of new carpet often have repairs made to them as part of the manufacture quality control procedure before being sent to the retailer.
They wouldn't reject whole rolls of carpet because of a small flaw. Instead, that flaw or carpet damage is repaired. Repairs can be done so invisibly that they wouldn't even be seen.
This is still the case once the carpet has been laid on your floor in The Leys. Just because a small section of your carpet is damaged, why should you reject and replace the whole carpet? That would be an extremely costly thing to do. All you need is a professional carpet repair done by the Carpet Surgeon.
The Leys, Carpet Repair is the Solution
Usually it is one or two small patches of carpet that need repair and there is no need to let these small problems spoil your whole room.
Common carpet issues such as accidental burns, pet damage, frayed edges, poorly fitting carpet joins, stains, damage from leaking radiator pipes and even general wear can all be seamlessly repaired. Carpet Surgeon will visit you, in The Leys, to perform the carpet repair there and then.
This is a hassle-free, cost effective solution. However, that doesn't mean the carpet repair is just a quick fix. All repairs are done virtually invisibly and will last for the life of the carpet.
Larger sections of carpet can also be repaired, after all Carpet Surgeon do commercial carpet repair too.
See the Proof
Take a look in the gallery of before and after photos from happy customers in The Leys Tamworth who recommend the friendly and professional services of Carpet Surgeon.
Alternatively, send a 'before' photo of your carpet damage via the Carpet Surgeon contact page and see the 'after' for yourself when Carpet Surgeon has performed a professional carpet repair for you.
For a quick response in The Leys or other areas of Tamworth call locally on: 01827 261 782 or check here for other areas covered by Carpet Surgeon.