Carpet Burns
Before
After
Commercial Carpet Repairs
Before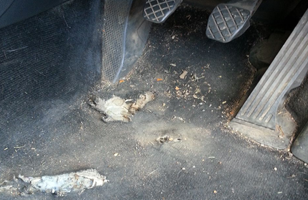 After
Pet Damage
Before
After
Landlords Learn the Secret to Repair Carpet Holes
Landlords Learn the Secret to Repair Carpet Holes
One of the biggest issues with property rental seems to be the carpets.
A good carpet can totally change the look of a property making it more appealing to tenants and easier to rent out at a premium price. However, carpets are expensive and for all kinds of reasons it may not be possible to change the carpets for each new tenant.
What can you do, then, if you find that the carpets have been damaged and you are left with holes in the carpet?
Before you rip up the carpet thinking that this is the only answer, stop! And learn the landlord's secret of carpet hole repair.
How to Repair Carpet Holes
1. Call Carpet Surgeon - your local experts in carpet hole repair.
2. ...
(There is no number 2 because that's all YOU need to do to repair the hole in the carpet invisibly).
Carpet Surgeon will arrange a convenient time with you and assess the carpet hole for repair. Dependent upon the size of the hole in the carpet, Carpet Surgeon will use a variety of tools and methods to seamlessly plug or patch the carpet, ensuring a perfect match with the existing carpet.
If you have any spare sections of the same carpet available, Carpet Surgeon can use this to repair the hole. Even if you don't have any extra carpet there are still methods that Carpet Surgeon can use to make a perfect carpet repair.
It's not only holes in the carpet that can be repaired but other types of damage too; rips, tears, burns, fluffy seams and threadbare patches can all be repaired to leave a carpet looking like new.
Emergency Carpet Hole Repair - SOS
Experienced landlords, that have already witnessed the magic of a Carpet Surgeon repair, are now prepared. They keep any spare sections of new carpets that they do have laid as a precautionary measure for this very purpose.
If you too have a rental property portfolio it is a good idea to have Carpet Surgeon on your speed dial of reputable tradesmen to help you deliver a quick turnaround.
To extend the life of your carpet with an invisible carpet hole repair from Carpet Surgeon call 01827 261 782.