Carpet Burns
Before
After
Commercial Carpet Repairs
Before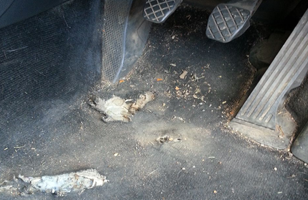 After
Pet Damage
Before
After
I have a burn in my carpet, can you repair it?
Why is it when an iron falls on a carpet, the burn mark is never quite in the right place to be neatly hidden by a rug, plant pot or coffee table.
The same goes for straightening irons, candles and cigarette burns.
Sometimes the only options we are left with are replace the carpet or repair it.
So it's no surprise that we often get asked the question… 'can you repair the burn in my carpet?' And I'm here to tell you, that not only can it be repaired, but it's worth doing and will save you money.
Read on to find out how.
Repairing a burn in the carpet
It's hard for your eyes not to be drawn to that dark melted blemish that stands out on your once flawless carpet, but don't despair we can repair1.
By examining the burn, we can decide on the best method to repair; perhaps by integrating a piece of left-over or matched carpet into the existing carpet or by re-tufting each weave with the precision of a surgeon.
Either way, the burn marks will soon be eradicated from your carpet in no time, leaving you relieved and with plenty of time for that dinner party you have planned that evening.
Save yourself the hassle of costly replacements
When we hear that desperate question over the phone of 'can you repair burns to carpets' it's quite often followed by the explanation that they have already spoken to their insurers and didn't realise they weren't covered for accidental damage2.
And honestly, as tempting as it may be to say a burglar broke in and kindly decided to help out with the huge pile of ironing, you just know that's not going to hold up.
So without the bolt-on of accidental damage cover you may find that resorting to claiming on your insurance and bumping up your premiums isn't going to happen.
So comparing the costs of replacing the whole carpet with an expertly, quick repair by Carpet Surgeon – I'd say, it's worth it. But then we would!
But don't take our word for it, take the case of Mr. Mills3 who had dropped an iron on his lovely fitted carpet (cue that sinking feeling).
The iron had burnt through the underlay leaving a large nasty mark. As the home was rented, it was up to him to make sure damage was repaired otherwise it would be goodbye deposit.
Thankfully we were able to repair the damage quickly and professional. Mr. Mills not only saved his deposit, but saved paying out for a whole carpet replacement and all for what he described as 'surprisingly little cost.'
See some amazing carpet burn transformations
Mr. Mills experience is just one of the many cases of carpet damage that Carpet Surgeon has successfully repaired.
We've been able to repair burns from heating appliances, stains from bleach, tears from animals4 and even worn out vehicle carpet5.
You can see the results of these transformations in our gallery here6 and read honest testimonials and reviews here.3
So if you ever find yourself peeling a heated appliance from the carpet, you now know that calling out Carpet Surgeon is the best way to regain that house-proud feeling once more.
So drop us a call (01827 261782) or email7 with your details, type of burn and location and we'll be happy to provide you with a solution to suit your budget.
Links;
1: https://www.carpetsurgeon.co.uk/how-do-you-repair-a-carpet-burn
2: https://www.carpetsurgeon.co.uk/avoid-costly-insurance-claims
3: https://www.carpetsurgeon.co.uk/testimonials
4: https://www.carpetsurgeon.co.uk/hassle-free-solution-pet-damaged-carpets
5: https://www.carpetsurgeon.co.uk/how-to-repair-a-car-or-vehicle-carpet
6: https://www.carpetsurgeon.co.uk/carpet-repair/nggallery/slideshow
7: https://www.carpetsurgeon.co.uk/contact-us