Carpet Burns
Before
After
Commercial Carpet Repairs
Before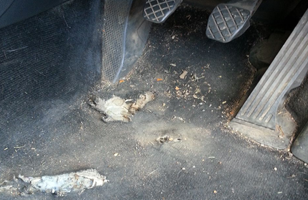 After
Pet Damage
Before
After
The Hassle Free Solution for Pet Damaged Carpets
It's no secret that British people adore their pets. In fact 98% of pet owners surveyed consider their pets to be members of the family. Not surprisingly then our beloved dogs, cats and even rabbits are warmly welcomed into our homes, our hearts and on to our carpets.
As much as we love our pets, it remains true that they aren't the type to worry about how respectable our homes look. Your new flawless cream carpet soon becomes your cats' favourite claw sharpening tool. Your dog is convinced that the world's tastiest bone is hidden under your Berber carpet and that corner your rabbit is always drawn too? Now it's just chewed underlay.
True, we can train our pets to behave to some extent, but what happens when we realise that the damage they have done to the carpet is now so obvious that no amount of furniture rearranging will solve the problem? Is the only solution then, to spend a hefty fee replacing the carpet?
Not anymore. There is now a super simple, hassle free way to repair your pet damaged carpet and save you money in the process too.
Don't despair Carpet Surgeon repairs
Wait right there! Before you start pulling up your damaged carpet in frustration, there is one thing Carpet Surgeon would like you to do. Take a photo.
Probably not the first thing that comes to mind, but a good clear photo of the damage can be sent to Carpet Surgeon and in return they'll send you an estimate of how much the repair is likely to cost. Feel free to include the adorable offending pet in the photo if you wish!
Carpet Surgeon will then happily advise you on the best way that they can repair the pet damage and save you significant costs on replacing carpet for the whole room.
The policy excess is how much?!
Many people's first response to tackling their pet damaged carpet is to get on the phone to their contents insurers. This can be a good idea; if you selected the option for accidental damage (including pets) that is.
In an effort to find the most cost effective insurance quote, often people overlook the add-ons. So when it comes to claiming for pet damaged carpets, they may be surprised to learn that their insurance doesn't cover accidental damage and even if it does, quite often pet damage is excluded.
Then there's the concern of the policy excess and the possibility of a higher premium. So if you've read the fine print and discovered that your pet damaged carpet isn't covered – then don't despair
Your carpet, in the hands of the experts
Carpet Surgeon has over 30 years experience with soft flooring, and a specialised knowledge in carpet types and materials. Using a variety of techniques, they can skilfully match, re-tuft and patch sections to transform your pet's favourite stress relief area back into your plush carpet once again.
You will be amazed at the difference. You can even visit Carpet Surgeons before and after gallery here to see with your own eyes the transformations from ruined to remarkable.
After Carpet Surgeon Repaired the damage

As seasoned professionals, Carpet Surgeon will conduct the whole process quickly and with minimum disruption to you and your family (pet included).
Don't resign yourself to staring at that damaged carpet any longer, snap a photo and email it to Carpet Surgeon today. A hassle free, money saving solution awaits you.
Find out how Carpet Surgeon's expertise has rescued pet damaged carpets and saved money for people in your local area by visiting the testimonials page.