Carpet Burns
Before
After
Commercial Carpet Repairs
Before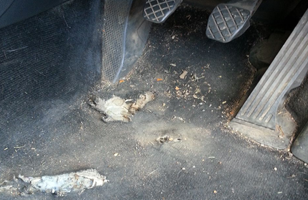 After
Pet Damage
Before
After
Guest Blog: A Buyer's Guide to Choosing the Perfect Rug
A Buyer's Guide to Choosing the Perfect Rug
Rugs can lend instant comfort, warmth and visual appeal to any room, but there are several things to consider before you head to the stores. Material, size and your home lifestyle are all important factors. Here are a few pointers on how to get started.
Make and Material
Generally-speaking, there are two common methods of rugs manufacture.
- Woven carpets can be either hand-made or factory-produced and are known for toughness due to the method of weaving vertical strands (known as 'warps') and horizontal fibres together. Often made of wool and natural materials, woven rugs can be a little more costly.
- Tufted rugs are machine-made using computers: a canvas backing is punctured with strands and sometimes a second layer is glued on afterwards. This allows for greater precision in prints, so the majority of rugs for sale in the showroom will be made this way.
- Materials can range from natural sources like sea grass and cotton to man-made fabrics such as nylon and polyester. Although hand-made, organic rugs have an unparalleled artisan look, manufactured polyester rugs can offer better stain protection and are often easier to clean.

Fit To Purpose
-The best place to start is to think about what purpose and room you are buying the rug for. If for a communal area such as a lounge or hallway, how much foot-traffic does the area encounter?
- Then think more generally about your family and lifestyle. If you have young children or a house pet, you may need to think more practically about materials and longevity.
- Rugs which are intended to cover a hardwood or smooth surface may require extra safety considerations, such as grips underneath to stop them from sliding.
Practical Tips
- Make sure you have measured the space where the rug is to be placed and taken into account how you want furniture to be grouped. If in doubt, tape the area on your floor to see what the effect will be like.
- Match the size and texture of your rug to the room: large furniture suites will dwarf a small rug and heavy piling can look out of place beneath a refined, elegant dining table.
- Try to tie a rug in with one of the key shades in your room. Neutral areas might benefit from a strong accent colour but try not to overload on printed designs if you already have patterns elsewhere. It is useful to note darker and heavily-patterned rugs hide a multitude of sins in a busy household.
Many designers advise those starting from scratch to build an entire room around the rug or carpet. However, if you are simply working with existing décor, try bringing home swatches of different colours, or making a mood board of different styles if you are struggling to choose. The benefits of a rug in terms of insulation, comfort and interior design are high, so it is worth weighing up all your options and picking correctly.
AUTHOR BIO
Alfred is a home interiors advisor who writes for several web and print publications. His specific interests lie in soft furnishings and he often visits decorating sites to check out what is new in designer curtains and contemporary rugs for sale. To know more visit this page.