Carpet Burns
Before
After
Commercial Carpet Repairs
Before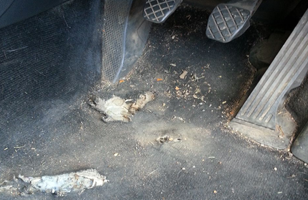 After
Pet Damage
Before
After
Getting Tamworth BBQ Ready
As usual for this country we have a couple of days sun and then the rain is back.
On those rare and sunny days your thoughts immediately turn to barbecues and spending time in your lovely Tamworth garden. The disappointing reality is that you realise your lawn needs mowing before you can think of lighting those coals. Let's hope the rain stays off long enough to do both!
How about making things a little more relaxing for you? Imagine that the sun comes out and you can step outside, grab a deck chair and enjoy soaking up those rays straight away - on a pristine no-maintenance lawn. That little day-dream can be a reality by having artificial grass laid instead.
Laying Artificial Grass for Tamworth Residents
To have the best looking artificial lawn possible, it is one of those jobs that is best left to the professionals. Our business might be known for laying carpets in Tamworth, but did you know we are also experts in laying artificial grass in Tamworth?
Whatever your existing existing garden surface, we know the best way to lay your new artificial grass. Presuming that the artificial grass will be replacing an existing lawn, that turf will be lifted. We will then ensure that the drainage is correct before preparing the ground with hardcore, sharp sand and a weed membrane to give an even surface that will require no ongoing maintenance.
Depending upon your garden layout your new artificial grass may need an edging border. We will lay the artificial grass neatly up to the border leaving no gaps. Our expertise in laying means that your artificial grass won't ripple and any joins will not be visible. When laying the artificial grass the direction of the blades will be taken into consideration, for the most natural look possible as you look out across your lawn.
From start to finish an average lawn in Tamworth* will probably be completed in under three days. Leaving you the rest of the sunny days to enjoy the garden.
Choice of Artificial Grass
With real grass you have a choice of what to grow. Your decision will partly depend upon the look you want to go for but also whether it's a softer or a more hard-wearing, tougher plant that you require. Think bowling green versus kids football pitch.
You can also choose your look when laying artificial grass. We have a variety of choices to suit your budget and the overall effect you'd like to go for. They are all hard-wearing and require no maintenance. You won't need to mow, water, weed or try to 'grow in' any bald patches from now on.
So, all that leaves you to do is light the barbeque, put the sausages on and pour yourself a drink. We'll soon be enjoying those BBQ smells all around Tamworth as you enjoy your newly fitted artificial grass.
For an affordable quote, contact 01827 261 782.
*Although the average sized garden in Tamworth is around 4m x 5m, gardens of all shapes and sizes can have artificial grass laid. To discuss your requirements call Tamworth: 01827 261 782