Carpet Burns
Before
After
Commercial Carpet Repairs
Before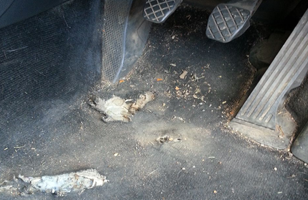 After
Pet Damage
Before
After
Fix Torn Carpet with Tamworth's Carpet Surgeon
If you've recently found yourself searching 'how to fix torn carpet' in Google, then you may be one of those unlucky people that have fallen victim to an accidental rip in your new carpet.
Whether it was from an excitable pet with a passion for digging; a recent furniture rearrangement; or a DIY incident, you're certainly not alone as one of the many residents across Tamworth, Mile Oak and Dosthill who are contemplating the need to replace their entire carpet.
In fact, if you are a resident in Tamworth, Mile Oak and Dosthill, you may have assumed that it's impossible to fix torn carpets because you don't have any offcuts or carpet remnants with which to repair it.
So does this mean that the only way to fix torn carpet is by replacing the whole flooring with a new carpet, through insurance or purchase?
Carpet Repair Solutions for Mile Oak and Dosthill Homes
If you've already assumed that carpet replacement is the only option, you may have already considered claiming on your home insurance.
As tempting as this is to have a brand-new carpet to replace your ripped section, many residents in Tamworth have found that their home insurance doesn't always cover accidental damage to carpets – and even if it does, making a claim will often increase home insurance premiums.
Of course, the most convenient solution to fix torn carpet sections is to repair the smaller damaged section and save the hassle and costs involved in replacing the entire carpet; but is this possible without carpet offcuts and remnants?
It is with Carpet Surgeon.
Based in Mile Oak, Carpet Surgeon provides the ideal solution to fix torn carpets for residents in Dosthill and Tamworth areas.
If you no longer have any carpet offcuts or remnants from your original carpet fitting, Carpet Surgeon can still fix your torn carpet.
Using a range of inventive solutions, from identifying replacement carpet remnants from our huge collection, to single tuft replacement using the edges of your existing carpet, Carpet Surgeon are able to skilfully fix torn carpet to create a flawless and seamless finish.
As seen in our before and after gallery, Carpet Surgeon can alleviate your concerns by fixing torn carpet so that you can extend the life of your new carpet and avoid costly replacements.
So don't despair if you have accidentally torn or ripped your carpet. Many Tamworth residents across Mile Oak and Dosthill have already found Carpet Surgeon to be the answer that they needed to transform their carpet damage quickly and affordably.
So, to have your ripped or torn carpet fixed by expert surgeons, and support a friendly and family-run local Tamworth business – contact your Mile Oak based Carpet Repair team on 01827 261 782 or email us for a quote.