Carpet Burns
Before
After
Commercial Carpet Repairs
Before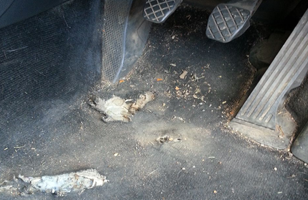 After
Pet Damage
Before
After
The Danger of Leaving an Extension Reel Turned on Without Being Fully Unwound
Carpet repair is our speciality and we have seen it all from Pet Mess to Human damage when it comes to having to re-patch soft flooring, or micro sheer, but one problem that could be increasing your risk factor of damaging your carpet or even worse – damaging your health, is extension leads – especially those that are used when they are not fully uncoiled.
Uncoiled extension cables that are switched on are a hazard in your home, this is because the current flowing in a cable generates heat which causes the temperature of the conductors to rise until the heat lost balances the heat generated. Eventually this will cause the rubber on the coiled extension cable to go soft, sticky and then melt into your floor or carpet. If this process isn't stopped in time it can even lead to house fires which are potentially fatal.
Recently we were called out to a property which had a coiled extension cable soften and stick into their carpet. Unable to remove the cable without puling the extension cord and some carpet up with it they were left with a devastating ring of bare flooring in their home. To the homeowner who was quite happy with the rest of the carpet and didn't want to replace the whole thing, there was only one logical answer – repair.
The repairing of this carpet consisted of finding a similar shade of carpet to the carpet in your house or removing a piece of carpet somewhere hidden to repair the damaged soft flooring. At Carpet Surgeon we are seamless in this process and most carpets look as good as new. We did this for the homeowner who was delighted with the result!
If you have damage to your carpet that requires the repair of an area to disguise it get in touch today to see how we can help you! Call us today on 01827 261782 or 07899992424.