Carpet Burns
Before
After
Commercial Carpet Repairs
Before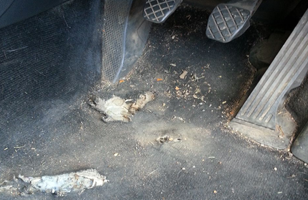 After
Pet Damage
Before
After
Everything you need to know about professional carpet fitting in Tamworth
If you need a carpet fitting in Two Gates, or the wider Tamworth area, you've come to the right place. Carpet Surgeon are experts in carpets, with more than 30 years of experience in both carpet fitting and carpet repairs.
As a family-run business based in Tamworth, we have carpeted hundreds of homes throughout the area and business continues to grow through recommendation and word of mouth.
Lots of our new customers also find us on Google, but once they have used our professional services once, we often end up supplying, fitting or repairing their carpets for years to come.
If you need a carpet fitting in Tamworth, you might be wondering whether you should have a go at fitting the carpet yourself. With that in mind, here are a few reasons why it's worth calling in the services of a local professional carpet fitter.
Long-lasting results
A new carpet represents a significant investment in your property and it has to last for several years. Carpets that are not fitted properly do not last long. Good carpet fitting requires the carpet to be stretched and fixed correctly for a smooth surface. This means executing edges and joins seamlessly for perfect, long-lasting results. Edges and joins that are not properly executed could fray and unravel, while the carpet itself could start to look shabby very quickly if it's not fitted correctly.
Professional carpet fitting from the ground up
A well-fitted carpet starts with a well-prepared sub-floor. At Carpet Surgeon, we understand the different sub-floor types and ensure this is correctly prepared to provide the perfect foundation for your smooth finish. Without the correct underlay, your carpet could be susceptible to ridges and ripples appearing.
Minimise waste and reduce the cost
Professional carpet fitting begins with professional measuring up to minimise waste and reduce the cost. Especially if you have an odd-shaped room, professional measuring up can reduce the amount of carpet you need to buy.
A well-fitted carpet that looks great
It's not just about laying a carpet, smoothing it out and fixing it. Professional carpet fitters also consider factors such as the pattern of the carpet and the direction of light. This can make a huge difference to the overall look of your carpet, especially where joins are concerned.
The correct tools for the job
Our professional carpet fitters know how to get the best out of your carpet and this includes having the right grippers, underlay and tools to ensure it stands the test of time.
Fast and affordable carpet fitting in Tamworth
Our professional carpet fitters will fit your new carpet quickly and efficiently with minimum disruption to your family or business. Our decades of experience mean we will be in and out in no time, leaving you with a beautifully-fitted carpet that looks great and will last.
Save money in the long run
You've probably spent hundreds of pounds on your new carpet and you may want to save money by fitting it yourself. However, by appointing a professional carpet fitter in Tamworth, you could save money in the long run. A well fitted carpet looks better and lasts longer. That's not to mention if something goes wrong in the DIY measuring or fitting of your carpet.
Carpet Surgeon knows everything there is to know about making your carpet look the very best it can, no matter how much it costs.
We can also supply carpets for a one-stop convenient service and have a wide range to choose from to suit all tastes.
We deliver local craftmanship alongside friendly customer service. If you need a carpet fitting in Two Gates, or Tamworth, contact Carpet Surgeon or call us on 01827 261 782.