Carpet Burns
Before
After
Commercial Carpet Repairs
Before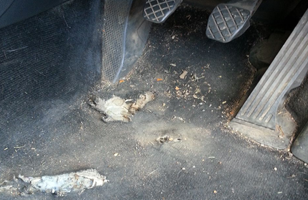 After
Pet Damage
Before
After
The Easy Way to Fix Ripped Carpet [in Stonydelph and Amington]
As a carpet repair company in Mile Oak, Tamworth we are often asked if it's possible to fix ripped carpets by local Tamworth residents in Stonydelph and Amington.
The good news is that we can fix ripped carpet and have indeed saved many Tamworth residents in Stonydelph and Amington, the hassle of replacing large sections of carpet with our cheaper and stress-free alternative to fix ripped carpet.
So, is paying for a carpet repair to fix ripped carpets in Stonydelph and Amington the best option for you?
Should You Pay to Fix Ripped Carpet?
Ripped carpet in our homes can cause a number of frustrations. It not only looks bad, but unless it's fixed, the ripped carpet can cause a dangerous trip hazard (especially on the stairs) or can widen causing a bigger hole in your carpet which is harder to fix.
Of course, there are a number of options that your neighbours in Stonydelph and Amington may suggest… maybe to glue the rip together; hide the ripped carpet under a rug or plant pot; or to insist your landlord replace the whole carpet (even though landlord repair obligations usually don't include carpet damaged by the tenant.)
But rather than having to pay out large amounts for a complete carpet replacement, argue with your landlord or cause more damage with DIY glue repairs– the easiest option is an affordable but professional repair to fix ripped carpets.
Affordable Repairs with Carpet Surgeon
When we fix ripped carpets in Stonydelph and Amington, our aim is to provide a fast service and restore your carpet to its original condition – we never leave you with a patchwork quilt look.
As you can see by our before and after photos, we at Tamworth Carpet Surgeon provide a seamless finish using expert carpet repair methods, such as re-tufting, micro-shearing and professional colour matching replacement.
With an in-depth knowledge of carpet backing, underlay and fibres, we know the right processes, tools and repairs for a variety of carpets and carpet damage – including badly ripped carpets.
This means that our customers in Stonydelph and Amington are happy to recommend our service once they've seen our invisible carpet repairs and
experienced the quick and affordable repairs we provide to fix ripped carpets.
So before you resort to the more stressful alternatives of fixing ripped carpet – call Carpet Surgeon for your Stonydelph or Amington carpet repair and save yourself wasted time or unnecessary stress, hassle or costs.
For a quick quote to fix ripped carpet, simply attach a photo of the damage in our contact page.