Carpet Burns
Before
After
Commercial Carpet Repairs
Before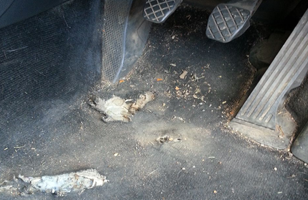 After
Pet Damage
Before
After
Don't despair - carpet repair is here
All you need do is drop a hot iron onto a carpet made from a wool and fibre mix and you're left with a mark. It may be an edge burn or a full burn in the shape of the iron. Chances are your insurance company will not pay out for something like this. If they do, it will probably nowhere near cover the cost of replacement. But do you really have to replace the entire carpet?
Don't despair
Don't despair! If this or other damage has occurred to a carpet in your home, office or house you rent out to tenants, carpet repair can save you an absolute fortune. Accidents happen all the time to household effects. While some damage and some effects are covered on a home and contents insurance, some items aren't covered. Damage to carpets is always a contentious issue and often the cause of grief between insurance companies and their customers. If your carpet has sustained minor damage, rather than completely replace it companies such as carpet repair Manchester firm Carpet Surgeon has cost effective solutions.
Damage by pets
We are a nation of animal lovers. Sometimes however, that love is stretched to the limit. Cats love clawing. Carpets and sofas are prime targets. Dogs love chewing. Furniture and carpets are particular targets, as too are shoes and clothes. Most of us have seen the results of what dogs and cats do naturally, especially when they do it in the house.
If a carpet has been shredded by a cat or chewed by a dog, it may appear at first glance that the carpet is beyond repair and will need to be replaced. If a pet has fouled a carpet it can be cleaned. However, if stains persist, so too can odour. Deep cleaning is essential, but in most cases products bought over the counter are sometimes ineffective. Companies such as carpet repair Manchester firm Carpet Surgeon use industrial strength cleaning materials and equipment to get to the root cause of the problem.
Red, red wine
Sounds great as the words from a song; spilt on a carpet it can elicit moans and screams which are nothing like the melodious lyrics. If you have entertained and have had this happen to your carpet, you'll probably be nodding in agreement as you read this.
If a carpet is damaged in a minor way, and the damage is out of sight then no problem. A little change round of the furniture or a strategically placed rug can hide a multiplicity of things. But if the damage is conspicuous then you have a problem. Some household items and effects are excluded from insurance cover. They may be included for accidental damage but there may be clauses which inhibit what you can and can't claim for.
Repair is probably a cost effective option but if you don't have the necessary knowledge, experience and/or equipment you could end up making matters worse - not better.
If you have a problem and you need a solution, you should call in the A team. In this case the A team is a company like carpet repair Manchester firm Carpet Surgeon to make your carpet as good as new.
Graham green is a freelance writer and blogger. He has an interest in home economics, interior décor and home insurance issues. He has reviewed the services provided by companies such as carpet repair Manchester firm Carpet Surgeon for comparison.