Carpet Burns
Before
After
Commercial Carpet Repairs
Before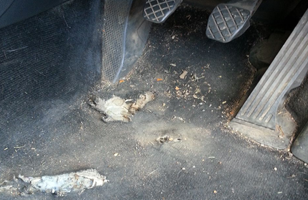 After
Pet Damage
Before
After
Is a DIY Carpet Repair Possible?
Deciding whether or not to do a DIY carpet repair is like deciding whether or not to attempt to repair that scratch in your car's paintwork yourself.
The idea of a DIY repair seems so simple but, just like a car, a carpet is an expensive item and you really don't want to cause any further damage.
Should You Attempt a DIY Carpet Repair?
You can read about how to do a DIY carpet repair, you can even purchase DIY carpet repair kits just as you can buy DIY car paint kits. But should you really attempt the job yourself?
The sales of these products show that regular people do at least attempt DIY carpet repairs themselves. But is that the whole story? How many of those people after attempting a DIY carpet repair with an 'I have nothing to lose' mentality end up ripping the carpet up and buying a new one? Or ultimately call in professionals with an even bigger job to put right?
Don't waste time and money on equipment that you won't use again in the hope that your DIY carpet repair will be up to scratch. Make a call to Carpet Surgeon right away.
Professional Rather than DIY Carpet Repair
Carpet Surgeon are professionals with more than 30 years' experience. Rather than you second guessing the best way to fix the problem with a DIY carpet repair, Carpet Surgeon will assess the damage and will know, immediately, the best way to make the repair.
Whether your carpet has a tear, hole, rip, burn or bare patch; whether it's been flood damaged or pet damaged or it's just wear and tear; whatever damage your carpet has; Carpet Surgeon has never failed to prescribe a solution to a carpet repair problem.
From traditional re-tufting, to state-of-the-art micro-shearing and every available technique in-between, Carpet Surgeon use their specialist tools, skills and experience to quickly restore your carpet to its former splendour.
Carpet Surgeon knows which methods will work best on your particular carpet and you can trust that with their professional service you'll be left with a carpet that looks like new once again.
So why limit yourself to a roll of carpet tape and a sharp knife in a DIY carpet repair kit when Carpet Surgeon has all the tools needed for a perfectly invisible repair?
For a cost effective and hassle-free expert carpet repair call Carpet Surgeon on 01827 261 782. After all, no one wants their carpet to look like it's had a DIY repair.