Carpet Burns
Before
After
Commercial Carpet Repairs
Before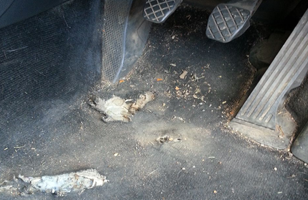 After
Pet Damage
Before
After
Costs to Carpet a Room vs Carpet Repair Costs
Considering how much it costs to carpet a room, it's understandable that many people like yourself seek an alternative solution if they accidentally damage their carpet.
Iron burns, animal scratches, rips, wear and tear are all problems that can't be ignored for long – but rather than turn away visitors, it's time to turn your room back to its welcoming self.
But which option provides the best value for money? Should you consider spending on costs to carpet a room or carpet repair costs?
Considering Costs to Carpet a Room
Unless we are of footballer status, it's very unlikely any of us can pay costs to carpet a room each time we accidentally scorch it with an iron, hair straighteners, cigarettes or an electric heater.
Of course, having freshly replaced carpet is a great way to transform a room, it's just not always the most cost effective option.
When it comes to replacing a carpet in your room, what are the costs involved compared to carpet repair costs? Let's have a quick look:
The Carpet Itself: When replacing a carpet, you need to consider the material (polyester to wool), pile type (woven or tufts) and colour to suite your room décor and foot traffic. The higher the quality, the more you will pay; however, with carpet repair costs, you don't have to worry about any of that. Most damage can be repaired using inventive solutions from off-cuts or even removal of single tufts on the edge of your existing carpet to create a flawless finish.
The Underlay: With underlay making a big difference in the longevity and comfort of carpets these days you'll need to choose a strong reliable material (rubber to foam) and tog rating if you are replacing a damaged carpet. With a repair, the carpet is expertly cut and restored without damage to underlay, removing any underlay expenses with carpet repair costs.
The Accessories: Carpet gripper rods and door strips for carpet replacement don't come free you know, but with carpet repair costs, they are not even necessary (unless requested).
Labour: Purchasing your carpet is one thing, but don't forget to add labour costs on top for it be fitted professionally. And if there is heavy furniture to be moved, you can be sure this will be at an additional cost. Although carpet repair does involve highly skilled experts for a quality finish, carpet repair costs include just the labour – and as it is for small sections, with shorter timescales, you can be sure of an affordable price.
Time: Although not a direct spend from your pocket, your time is precious. If you decide on replacing your carpet, you'll need to factor in the time involved in visiting a showroom, viewing samples, choosing underlay and moving furniture. With carpet repairs – a quick viewing and a brief greeting is all that is needed as our experts quickly set to work transforming your carpet.
So when it comes to comparing costs to carpet a room with carpet repair costs; you can be sure that it will cost significantly less to repair your damaged carpet compared to replacing the whole room (as well as saving you time and effort).
So if you have carpet damage, first consider the cost benefits of extending the life of your carpet with an immaculate repair by experts that will never leave you with a patchwork effect; Carpet Surgeon.