Carpet Burns
Before
After
Commercial Carpet Repairs
Before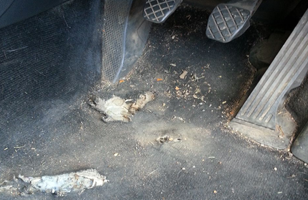 After
Pet Damage
Before
After
Cost effective carpet repairs - cheaper than complete replacement
A burn on a carpet caused by a hot iron being dropped on it or damage caused by a pet doing what comes naturally? Don't replace a carpet until you have checked out whether it can be adequately repaired. More often than not a carpet CAN be seamlessly repaired for a lot less than a new carpet would cost. If only you knew where to go to get it sorted!
House carpets
Living room and hallway carpets take a lot of punishment. It is what they're designed for. It isn't uncommon for carpets to be damaged or stained. More often than not damage is minor and can be covered up. Stains often wipe out with an off the shelf stain remover. But what if the damage cannot be covered over, or the stain removed? Worse, what if the damage is in full view? The time to call in a professional outfit such as carpet repair Birmingham firm Carpet Surgeon to effect repairs which you are unable to make.
Repair or replace
The last thing you really want to have to do is replace a carpet unless you absolutely have to. If it is a new carpet, you may be able to effect a replacement on a 'home and contents' insurance policy. More often than not it isn't possible to do so. Replacement may cost several hundred pounds. Do you have that sort of money available? Not everyone does. Carpet repair is a cost effective and viable option. If you call in the right company in to do it for you, chances are you'll not be able to see the repair once it has been completed.
Kids and pets
Kids and pets are messy creatures. It is a constant battle and typically a losing one most of the time. Kids will spill sticky drinks, milky drinks and probably paint their mum and dad's carpet a new colour. Cats will have no problem scratching a hole in a carpet, and dogs love chewing. It is a recipe for disaster if ever there was one. But don't banish the kids to the garden shed or chase the dog and cat up the street. They have no idea of the cost of a new carpet and after all, they're only doing what comes naturally.
Don't despair because help is at hand; help which is far more cost effective than buying a new carpet. Companies such as carpet repair Birmingham firm Carpet Surgeon have solutions to the problems of damaged carpets. Using the latest cleaning compounds and repair techniques available, they are able to furnish a repair as good as new in no time.
There is always a solution; it's just a case of knowing where to look and then doing something about it. If you know where to contact the Carpet Surgeon you can be assured of a rapid repair, and one which won't cost the earth.
As for the kids and the family pets it's your choice if you let them back in the house again. If you damaged the carpet by spilling red wine, drink it in the kitchen instead. If the damage was caused as a result of a dropped iron, it may be nature's way of saying "wear clothes with creases".
Graham green is a freelance writer and blogger. He has an interest in home economics, interior décor and home insurance issues. He has reviewed the services provided by companies such as carpet repair Birmingham firm Carpet Surgeon for comparison.